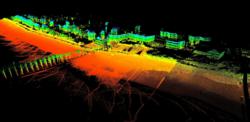 Houston, TX (PRWEB) August 29, 2012
In late July, 2012 survey and engineering experts Gahagan & Bryant Associates (GBA) were tasked by the U.S. Army Corps of Engineers – Wilmington District to survey the Masonboro inlet south jetty and Carolina beach rock revetment. This project consisted of surveying the entire length of the southern rock wall to get an accurate and detailed 'picture' of the existing structure which would then be used as a basis for construction repairs planned for the jetty.
GBA used several methods to collect the data needed for the project. Single and multi-beam sonar were utilized to capture below water three dimensional data of the rock structure as well as the hard bottom of the inlet.
To complete the subaerial portion of this survey, GBA worked with Measurement Devices Limited (MDL) and utilized their portable lightweight Dynascan M500 mobile laser LiDAR scanner. The Dynascan M500 was mounted on a support structure atop of the cabin of GBA's survey vessel to obtain the height needed to get coverage of the rocks due to the elevation changes along the wall. The vessel was then driven parallel with the wall on both inside and outside the inlet to collect complete 3D data for the above-water portions of the area.
In regards to MDL's involvement in the project, Abram Lambertson from GBA stated "MDL's crew, Jonathan White and Phil Barker, were excellent to work with. They were a huge part in having the project finish on time and run very smooth. The Dynascan M500 was an excellent tool for this purpose. The equipment was up and running with minimal delay and the data quality was excellent!"
For more information on Gahagan & Bryant Associates please visit
http://www.gba-inc.com
For more information about MDL's products and services, contact:
(281) 646-0050