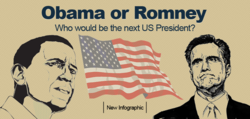 Mapsofworld.com has produced more than 200 Infographics in last few months and continues to add more everyday
San Jose, CA (PRWEB) August 24, 2012
If 'Obama or Romney' is all you've been hearing – from coffee table discussions to classrooms – MapsofWorld.com has put together a simple yet enriching and informative primer to aid your research and discussions. The Obama Vs Romney Infographic launched by the content and mapping portal is the result of detailed research and sums up in simple terms the two US Presidential candidates - their backgrounds, careers, and the issues they endorse.
Mapsofworld.com, one of the leading mapping and research portals of the world has produced more than 200 Infographics in last few months and continues to add more everyday. With the latest infographic about the presidential candidates, the site has built up an exhaustive section about the US Presidential Elections. Besides archives and past elections coverage, this section also extensively covers the US Presidential election process.
'Obama Vs Romney' Infographic, covers four sections. The basic information about both the Democrat and Republican Presidential candidates – their political positions, education, age, spouse and children, books they authored, and net worth. Then their career details are put together and then the issues that they have come to represent or champion in the run up to the elections. The projected electoral vote by state is also added to this infographic. Besides being an excellent research source and educational material, this primer promises to be a great starting point to many political debates and discussions in the online community.
For more about Obama Vs Romney log on to
http://www.mapsofworld.com/usa/presidential-election/obama-or-romney.html
About the company:
MapsofWorld.com is a multilingual portal offering high-quality maps and information across geographies and platforms. With special focus on educational content, the portal has thematic as well as interactive maps on all major platforms: Web, iPhone, iPad, iPod, and Android. World Atlas and World Quiz are two highly successful educational apps. Other services offered are custom mapping, content digitization, and the online map store.
For more information, please contact:
social (at) mapsofworld (dot) com
MapXL Inc.
10 S. Third Street, Suite 310,
San Jose, CA 95113