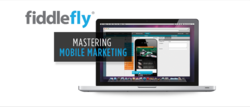 The FiddleFly software can help marketers and advertisers connect their entire campaigns
Columbia, MD (PRWEB) August 27, 2012
As the President of FiddleFly Inc., a company that produces industry-leading mobile website development software, Alex Kutsishin has spent years researching and experimenting with mobile web strategies and techniques. These techniques and tips will all be on display to a select audience on September 11th as well as a brief demonstration of how the FiddleFly software can help marketers and advertisers connect their entire campaigns with the power of mobile.
Experts around the marketing and business worlds have consistently projected mobile marketing to be a massive opportunity yet despite the lofty expectations the industry has been slow to become the hundred billion dollar market they predict. While part of this slow growth is due to consumer hesitance, a major factor contributing to the disappointing results is simple misunderstanding of the true potential mobile marketing presents.
The webinar will touch on strategy, theory, and real-world implementation of mobile marketing, and will be open to the first 100 visitors to register. You can register by visiting http://mastering-mobile.com.
About the Speaker:
Alex Kutsishin is the President and co-founder of FiddleFly, Inc. Mr. Kutsishin has been working in the advertising and creative marketing industries for over 10 years and has been a contributor and reference in numerous national publications including Forbes, The Wall Street Journal, The Washington Post, and Mobile Marketer. When he is not helping the world go mobile with FiddleFly, Alex spends his time traveling the country speaking about marketing, social media, and the future of web.