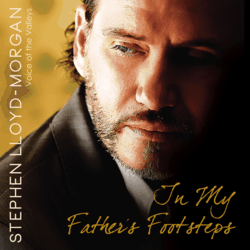 Stephen Lloyd-Morgan's album "In My Father's Footsteps" on target to raise at least £20,000 for cancer charities
(PRWEB UK) 25 August 2012
Steve's album "In My Father's Footsteps", released on 1st July is on target to raise at least £20,000 for the Tenovus http://www.tenovus.org.uk and Cudeca http://www.cudeca.org cancer charities.
Please see http://tinyurl.com/cssvfpu for more press release information - 24th August 2012
You can listen to Steve's album on Soundcloud http://soundcloud.com/steve-lloyd-morgan/sets/stephen-lloyd-morgan-in-my
Please also see 2 previous press releases for more information;
1) "Popular Welsh International Tenor Stephen Lloyd-Morgan Releases Album to Aid Spanish and Welsh Cancer Charities on 1st July"
http://uk.prweb.com/releases/2012/6/prweb9609078.htm - 18th June 2012
2) "Hitting All the Right Notes for Charity - Welsh tenors album release in aid of cancer charities is a resounding success"
http://uk.prweb.com/releases/2012/7/prweb9733445.htm - 26th July
Stephen Lloyd-Morgan, 'A Boy from Nowhere' by Dario Poli
'A Boy from Nowhere', is a particularly apt title for the Welsh tenor Stephen Lloyd-Morgan that reflects the growth of his own life's experience from the relatively humble and tough beginnings of his home in the Welsh mining valleys to the glamorous world of Marbella.
He has come a long way; handling his success in an unassuming and charming manner that delights everyone who meets him or hears him sing.
His voice has the timbre and quality of a rich full-bodied red wine, as his vocal range moves smoothly over the notes with power as well as with elegant sensitivity, and on occasion, a gentle vibrato can be detected adding extra charm to his sound as he transports the listener into his world.
His latest CD album, 'In My Father's Footsteps', recently recorded for charities, has an unusual range of songs, as mixing arias and popular ballads is not easy and a risky enterprise that few have succeeded in handling, with the exception of a few such as Andrea Bocelli and Nikolay Baskov, but Steve achieves this effortlessly.
From the classics, that every tenor is expected to conquer 'Granada' and 'Torna a Surriento', difficult enough at best to sing, to 'A Boy From Nowhere', 'Let it be me', 'Chasing Cars', and the evergreens 'Volare' and 'Bridge over Troubled Water'.
Musically he performs this delightful and eclectic mix of songs with the same integrity and musical professionalism that he brings to every audience, singing as to each and every one.
This 'Boy from Nowhere' is certainly going a long way!
By Dario Poli – Composer, Artist, Author and Illustrator
Steve's album "In My Father's Footsteps" is available on
iTunes, Amazon mp3, Spotify & all leading download stores.
CDs available in the UK from the Tenovus website
CDs ALSO NOW AVAILABLE from the 12 Cudeca & 65 Tenovus Charity Shops.
ALSO CDs FROM AMAZON ON DEMAND (worldwide)
Please buy now to support the cudeca.org & tenovus.org.uk cancer charities.
Information slmlive.com/album
REMEMBER 100% OF SALES INCOME WILL GO TO THESE CHARITIES.
THANK YOU!