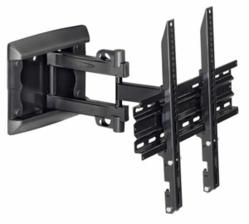 These additions to the TV Stands UK range come at a time of growth for the Yorkshire based company as they approach their 10th anniversary.
(PRWEB UK) 26 August 2012
TV Stands UK is delighted to announce a new range of inexpensive wall mounts from Italian manufacturer OMB. These new wall mounts expand the selection on offer and offer customers a great choice depending on how much they wish to spend. These newly available mounts not only bring with them the quality that TV Stands UK has become renowned for delivering but also a great price point, all with free delivery within the UK.
OMB bring to the table a selection of high quality wall mounts infused with Italian style and European quality, while remaining light on the wallet. The range starts with simple wall mounts at extremely affordable prices all the way to expansive cantilevered mounts that still remain a bargain. All of these mounts come with free UK delivery and are also part of TV Stands UK's no quibble 14 day money back guarantee: if the product does not match your expectations, then return it and your money will be refunded in full.
OMB's range of affordable mounts is also joined by a new member of the Premier Mounts family. The B60-VPM floor stand replaces the older B60-BRT in the TV Stands UK catalogue and brings with it a host of upgrades. This floor stand brings with it the quality associated with Premier, allowing TVs up to 40" to be mounted on a fully adjustable single column, offering additional tilt once the TV is mounted.
These additions to the TV Stands UK range come at a time of growth for the Yorkshire based company as they approach their 10th anniversary. Along with these mounts, recent additions to the selection include the BDI Eras range of TV cabinets, designed by US designer Noah Packard, Exelium's great range of wall mounts and brackets and STIL have also bought their 26 years of experience to bear with their range of TV stands. After a complete redesign of the website, TV Stands UK is delighted to be able to offer their customers an expanded choice of quality products to go with their commitment to quality service.
Along with these new ranges of TV stands and mounts, TV Stands UK has also recently teamed up with Jual Furnishings to offer a range of furniture for your lounge. From desks to coffee tables, this addition, along with the new TV mounts from OMB, provide TV Stands UK's customers with a large selection of differing styles ready for every need and occasion.
About TV Stands UK
'Growing out of a professional team from Yorkshire, TV Stands UK brings almost a decade's worth of experience to the table in TV Stands. Back in 2003, an experienced team of IT, Finance, Accountancy and Retail professionals joined together to fill a gap in the market for TV stands and mounts. Their aim was to provide the highest level of customer service in an online format: with internet prices and high street customer relations.
With free delivery on all items and a 14 day no quibble return policy, TV Stands UK continues to offer a high level of service as they expand their range to cater for every taste.