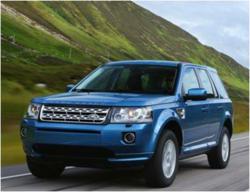 (PRWEB UK) 25 August 2012
It's not so much a facelift but more in the way of cosmetic enhancement for the latest Land Rover Freelander 2.
There are subtle changes to the front and back lights, with some detailing on the bodywork, but the designers have reserved the biggest changes for the interior of the 6 year old Freelander 2.
They have essentially taken out the fascia and console and thrown it away, then redesigned the instruments pod, the central ICE display and the console carrying a reworked control layout for the traction assistance systems.
Land Rover say the changes followed detailed interviews with owners of the existing cars and the introduction of the latest interiors for the much larger Range Rover and Range Rover Evoque.
Potential Evoque buyers turned to the Freelander 2 because of better headroom but they also wanted a more modern interior to look at which reflected that of the more coupe stablemate.
Upfront there have been changes under the bonnet and floor to improve economy, with stop start available on the two-wheel-drive version, and more intuitive controls which operate the very latest driver assistance systems.
The intelligent parking brakes is a switch, not a handle, and it senses the angle under the wheels to progressively apply more force, and the driver can speak commands to some audio and information features to alter them.
The eD4 is available only with a six-speed manual and gets stop-start technology as standard, helping to improve its official fuel economy to 47.1mpg and to reduce its CO2 emissions to 158g/km. The stablemate 4x4 TD4 manages 45.6mpg and 165g/km as a manual, and both it and the more powerful SD4 return 40.4mpg and 185g/km when fitted with the six-speed automatic transmission.
It will be shown at the Moscow Motor Show next week and then Paris at the end of September, with UK sales date and prices to be confirmed but expect them to start at £24,000 rising to £40,000.
Keep up to date with the latest business car leasing news and business car news with BCM