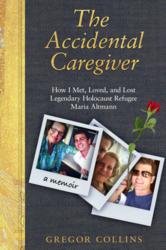 "From the most unlikely of unlikely romances comes a deeply felt, touching, humorous exploration of what love and age mean in today's world." –Stan Evans, Emmy Award-winning writer, and author of Box of Mustaches
Los Angeles, CA (PRWEB) August 28, 2012
Accomplished Actor, Producer and Writer, Gregor Collins has published the much-anticipated book 'The Accidental Caregiver: How I Met, Loved, and Lost Legendary Holocaust Refugee Maria Altmann', available through Amazon.com. The book charts Gregor's happenstance meeting with Altmann, how he became her caregiver, and how their instantaneous connection took them both on the adventure of a lifetime.
The moving memoir follows Gregor's self-centered and depressing days and weeks in Hollywood before the meeting, to the day of his unlikely interview, and the immediate and impassioned match of souls that occurred between them, blossoming into one of the most beautiful and unlikely love stories. Throughout Gregor's documentation of his "falling in love" for the first time, he imbues the harrowing tales of the Nazi's occupation of Austria, and Altmann's terrifying flight from her beloved homeland, her loves, her losses, and her triumphs. In every chapter Collins seems to reach his own enlightenment with every story, lesson, and humorous observation that Altmann bestows upon him.
In the late 1990's Maria Altmann famously fought the Austrian government and won back several Klimt paintings that were illegally seized during the Nazi occupation. Two paintings recovered were depictions of Altmann's Aunt, Adele Block-Bauer, a wealthy Jewish arts patron who sat for renowned Austrian Master Artist Gustav Klimt, and was the subject of two of his most famous works, Portrait of Adele Bloch-Bauer (1907) and Adele Bloch-Bauer II (1912). The case of 'Republic of Austria vs. Altmann' went to the Supreme Court and in January 2006, an Austrian arbitration panel ruled that the artworks be returned to the family. The eventual sale of the Klimt paintings garnered more than $325 million, turning the art world on its head.
'The Accidental Caregiver' is available at http://www.TheAccidentalCaregiver.com and the Kindle Edition can be found at Amazon.com. Gregor Collins is available for interviews for radio, podcasts, television, and print and online publications.