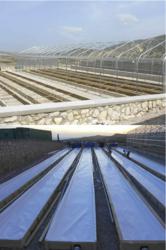 "Not only was this a success on a professional level, but a personal one as well. Having the opportunity to have even a small part in such a great cause truly makes the work more fulfilling" - Joshua Burger
Apopka, FL (PRWEB) August 28, 2012
Waterlife Design Group and Aquatic Eco-Systems Inc. are proud to announce their involvement in the successful completion of yet another large-scale aquaponics system, this one just outside of Port Au Prince, Haiti. In collaboration with Healing Haiti, a nonprofit charitable organization, Waterlife Design Group team member Joshua Burger successfully installed the system, composed of four 1,000 gallon fish culture tanks, ten 88' x 4' lined plant beds and all the necessary filtration equipment for recirculating aquaponics. The system is capable of producing approximately 2,500 lbs of fish per year, and between 6,000 and 8,000 plants will be able to grow in the plant beds at the same time.
Of his time working with Healing Haiti, Joshua Burger stated, "Not only was this a success on a professional level, but a personal one as well. Having the opportunity to have even a small part in such a great cause truly makes the work more fulfilling."
Environmental conditions in this particular region of the island make it very difficult to cultivate traditional terrestrial crops for agriculture. The fast-growing technology of aquaponics was chosen as the method for this particular project because it can be used successfully in nearly any conditions. Aquaponics is the combination of aquaculture (fish farming) and hydroponics (soilless plant farming).
The aquaponics farm was installed at Grace Village, Healing Haiti's fully staffed and operational mission. Their purpose for the farm is to have local Haitians farm and raise vegetable crops and fish, which will supply nutrient- and protein-rich, organically grown food to the local community, as well as the mission. If you would like to learn more about the Healing Haiti organization, visit HealingHaiti.org.
In March of 2012, Jeffrey Gacek, co-founder of Healing Haiti, and his associate Cathy LeVahn attended the Aquaponics Technology and Design Workshop hosted by Florida-based Aquatic Eco-Systems. World-renowned aquaponics experts Dr. James Rakocy, Dr. Wilson Lennard and Dr. Fred Petitt joined the AES staff as instructors of the workshop, which played an important part in preparing Mr. Gacek for a successful farming operation.
Aquatic Eco-Systems is holding another Aquaponics Technology and Design Workshop October 2–6, 2012, near Orlando, FL. The workshop will feature the same aquaponics experts as their previous workshops and will provide classroom and hands-on learning. Registration is now open and spaces are limited. Anyone interested in more information is asked to click here or call 407-886-3939.
ABOUT WATERLIFE DESIGN GROUP:
Waterlife Design Group is a division of Aquatic Habitats Inc. established to meet the increasing demands of the aquaculture, public zoo and aquarium industries. Facilities around the world have benefited from Waterlife's design, engineering and consulting expertise. The team's extensive field experience and versatility have quickly established Waterlife as a leader in system design and analysis, including retrofits and troubleshooting. Waterlife will coordinate with owners, architects, engineers and contractors to develop integrated, coherent and economical solutions for the aquatics industries. For more information and examples of Waterlife Design Group's projects, visit WaterlifeDesign.com or call 407-472-0525.
PR Contact: Mitch Manning - 407-886-3939 ext. 191
###