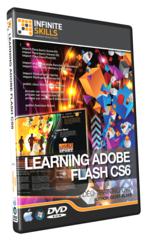 Learn Flash CS6 At Your Own Pace.
(PRWEB) August 26, 2012
Technology training firm InfiniteSkills Inc., last week introduced its Learning Adobe Flash CS6 Tutorial, an introductory training course designed to help new users learn the fundamentals of animation design using Flash.
The course covers all the fundamentals required for learning Flash as well as key new features in the latest version, including updated exporting options.
Learning Adobe Flash CS6 Tutorial Video
Course author Geoff Blake has more than fifteen years' experience in software training. In addition to his numerous video titles, has taught at the university level, authored one technology training book, and written numerous magazine and journal articles.
In the Learning Adobe Flash CS6 Training Video, Blake takes users from ground zero with Flash, introducing key elements of the workspace and demonstrating the basics of how to work with files and navigate the environment.
From there, the course launches into crucial Flash functionality such as drawing and shape tools, coloring techniques and effects, and object management. Students will also learn how to work with text, create and manage symbols, and use the Flash CS6 library. More advanced topics include learning to use the timeline, working with frames and keyframes, creating animation, and applying interactive features.
"By the conclusion of this computer-based training course, beginning Flash users will be have a working knowledge of the basic tools and techniques in Flash," says Chris Johns, content coordinator for InfiniteSkills. "The course is designed so that even users with little or no previous experience will be able to create and publish exciting Flash projects!"
Additionally, the course includes working files that allow users to work alongside the author as they learn to perform key Flash operations.
The Learning Adobe CS6 Video Tutorial - DVD also covers important new features, including the newly expanded exporting options which allow users to export to the Sprite Sheet format for game developers, or directly into HTML 5 for increased browser and mobile compatibility.
Free demo videos and a full list of course contents can be found on the Learning Adobe Flash CS6 training page of the InfiniteSkills website:
http://www.infiniteskills.com/training/learning_ios_programming.html
InfiniteSkills offers its Learning Adobe CS6 Tutorial Video either as a DVD or a direct download from the company website at a retail price of $99.95. All InfiniteSkills titles and formats are compatible with both Mac and Windows operating systems, and shipping is available around the globe. Additionally, InfiniteSkills tutorials are supported by project files which correspond to examples in the videos.
About InfiniteSkills Inc.
A leader in the field of software training, InfiniteSkills strives to offer the highest quality training at an affordable cost. InfiniteSkills tutorials are task-oriented instructional videos, teaching complex skills by providing hands-on examples and guiding users as they carry out critical objectives. InfiniteSkills offers a comprehensive range of software titles available as DVDs, digital downloads, and in iPad editions, keeping with company aim of delivering professional training to customers anywhere they want to learn.