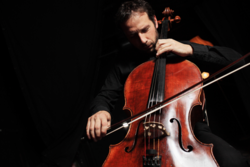 (PRWEB) August 28, 2012
The 20th Annual Moab Music Festival kicks off on August 29th and continues through September 10th. There is a buzz in the air around Moab and people are getting ready for this highly anticipated event. Both local and world renowned artists will be performing at some incredible venues around the area. The Sorrel River Ranch Resort & Spa is one of these venues and it is also the perfect place to stay for those travelling from out of town.
The Moab Music Festival began in 1992 and since then has entertained thousands each September. Over the past 20 years there have been some truly inspired performances. This year should be no different as we will see performances from artists like Bela Fleck and the Marcus Roberts Trio, The EarRegulars and numerous other extremely talented musicians. Moab Music Festival is known for its diverse musical programming and intimate concert experiences of Jazz, Latin, Traditional and Chamber Music.
The venues for Moab Music Festival concerts are spectacular. Concerts will be held in various indoor and outdoor venues around town. One well known saying around the Moab Music Festival is "music in concert with the landscape," which it certainly is. The Grotto is Moab Music Festival's signature venue. This Grotto is located 30 miles down the river and can be reached by jet boat and offers some tremendous views and outstanding acoustics. The Sorrel River Ranch is another outdoor venue nestled under gorgeous red mesas. Have a seat on the well manicured lawn or claim a spot under shelter and let your ears be treated to some wonderful tunes. Enjoy a fine meal at Sorrel River Ranch's River Grill Restaurant before or after the show. For those who just can't get enough, there is a 4 day 3 night Musical Raft Trip that travels through Cataract Canyon right after the Festival wraps up.
Since its inception the Moab Music Festival has always had a focus toward musical education. Festival Musicians perform during assemblies at the local schools. The artists-in-residence programs provide art and music education to local children as well as adults. Keeping the next generation in love with music and art is essential to making sure this wonderful music festival returns each year.
The Moab Music Festival could always use more volunteers. Volunteers are what make the whole thing possible. The festival relies on volunteers for things such as material distribution, merchandise sales, parking, artist transportation and box office tasks. Anyone who volunteers their time receives free admission to that specific event. If you would like to volunteer visit the website or call 435.259.7003.
Sorrel River Ranch Resort and Spa is honored to celebrate the Moab Music Festival's 20th Anniversary by hosting two of the concerts at the Ranch's Pavilion

Friday, September 7th: Chamber Music (Schubert, Poulenc, Da Falla, Ravel, Dohnanyi) 6pm
Saturday, September 8th: America: Three Generations (Joplin, Bermel, Copland) 6pm
The Ranch will be serving a special Moab Music Festival Two Part Pre/Post Fixe Garden
Opening Act (Courses 1 & 2) will be served from 3:30pm-5:30pm
Course 1 (Choose One)

Cup of Garden Gazpacho
Sorrel Ranch Salad
Course 2 (Choose One) - "Gifts from the Garden"
Chef Richard Potts at Sorrel River Ranch prepares signature dishes using our finest summer produce from our on-site sustainable garden.

Kurobuta Stuffed Pablano Peppers
Sorrel Eggplant Parmesan
Pattypan Squash
Ratatouille Nicoise
Closing Act (Course 3: Dessert) will be served from 8:00pm to 10:00pm

Sorrel River Ranch's Signature Dessert - Local Palisade Peaches a La Mode served in warm in a cast iron skillet.
Rain Forest Blend Fair Trade Coffee or Mighty Leaf Organic Teas
NOTE – If time permits - guests may have all 3 courses at once prior to the concert
$25 plus tax and gratuity
Standard Dinner with full menu will be available in the River Grill following the show from 8pm to 10pm.Reservations Highly Recommended: 435-259-4642
HIGHLIGHT: Sorrel River Ranch will be offering a special treat to guests on Saturday, August 8th during intermission in honor of the Moab Music Festival's 20th Anniversary. Sorrel River Ranch will be serving an Anniversary Cake made out of Sorrel River Ranch's signature cupcakes along with a sparkling toast.
If you would like more information about Sorrel River Ranch Resort & Spa, or the Moab Music Festival visit their websites http://www.sorrelriver.com and http://moabmusicfest.org/.