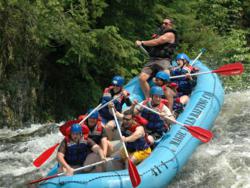 When is the best time to go rafting in Maine?
West Forks, Maine (PRWEB) August 25, 2012
Along with "How much does a Maine rafting trip cost?" and "Do I need to know how to swim?" rafting guests of Magic Falls Rafting Co. in West Forks, Maine most frequently ask "When is the best time to go rafting in Maine?" Says Magic Falls Rafting Co.'s owner and registered Maine whitewater guide, Dave Neddeau, "That's easy - any time from Labor Day to Columbus Day."
There are five reasons that rafting in late summer and early fall is the best time to ride the rapids in Maine.
1) Off-peak pricing: Raft trip rates are 10-35% less expensive than July and August. Columbus Weekend, Magic Falls Rafting offers rafting on the Kennebec River for the price of your age. The minimum age to raft the entire Kennebec is 10.
2) Air and Water temperature: The days are still warm in the high 60's and 70's. Likewise the water temperatures are starting to moderate from highs in the mid 70's to the mid 60's.
3) Value-added trips: Every weekend features a special high water release of 3500 to 6000 cubic feet per second on the Dead River or 8,000 cfs on the Kennebec River. Theme weekends at Magic Falls Rafting include a Hawaiian Luau, Turkey Day, Customer Appreciation Weekend, Halloween Party and Pig Roast.
4) Relaxed Atmosphere: The kids have gone back to school and parents back to work. The pressure from the demands of the summer tourists is off.
5) Flora and Fauna: It's time to see Maine moose, deer, osprey or bald eagles and watch the New England foliage turn colors along the river banks and gorges.
Magic Falls Rafting Co., established in 1989 by Dave and Donna Neddeau, is located in West Forks, Maine along the banks of the Dead River. The outfitter offers trips daily on the Kennebec River from May to October; an overnight camping adventure including hiking, rafting, inflatable kayaking, and a wildlife safari; double gorge runs of the Kennebec River and rock climbing day trips. The base complex has the area's only outdoor climbing wall, recreation pavilion, ½ court basketball, volley ball, a campground with tent sites and cabin tents, lodge with king, queen and bunk rooms and a housekeeping guesthouse for groups of sixteen. Information is available on-line at http://www.magicfalls.com.