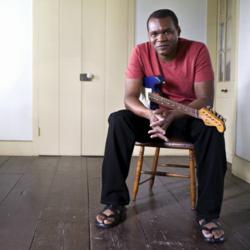 "Blues is one of the foundations of our music, but it's not all that we play," Cray says
Napa, CA (PRWEB) August 24, 2012
The five-time Grammy Award winner summarized 35 years of mastery on the debut Nozzle release Live From Across the Pond (2006), an electrifying two-CD concert set drawn from a series of shows (opening for Eric Clapton) at London's Royal Albert Hall. When the time came to follow up that widely praised collection with a studio recording, Cray viewed it as an opportunity to move his sound in other directions.
As ever with Robert Cray's undefinable sound, the music on his album, This Time remains stubbornly beyond category. He has been internationally admired as a stylist whose innovations have brought new life to the blues, and such punchy outings as "Chicken in the Kitchen" and "That's What Keeps Me Rockin'" should satisfy the most demanding blues fans. But the new album's barrier-busting material – whether it's the soulful "Love 2009" or the profound balladry of "This Time" and "Forever Goodbye" – demonstrate once again that attempting to slot Cray in a single genre is an exercise in futility.
"Blues is one of the foundations of our music, but it's not all that we play," Cray says. "When I first started playing guitar, I wanted to be George Harrison – that is, until I heard Jimi Hendrix. After that, I wanted to be Albert Collins and Buddy Guy and B.B. King. And then there are singers like O.V. Wright and Bobby Blue Bland. It's all mixed up in there." He continues, "Every time somebody asks me about where my music comes from, I give them five or six different directions – a little rock, soul, jazz, blues, a little gospel feel. Then there are some other things that maybe fall in there every once in a while, like a little Caribbean flavor or something. You just never know. I always attribute it to the music we grew up listening to, and the radio back in the '60s. It's pretty wide open. It's hard to put a tag on it."
Tickets for Robert Cray are $35/$45. They are on sale now and can be purchased through the theatre website at http://www.uptowntheatrenapa.com, at Ticketmaster (http://www.ticketmaster.com) or at the theatre box office (please call 707.259.0123 ext. 6 for hours). To find out more, please visit http://www.uptowntheatrenapa.com.
###