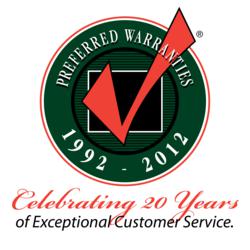 It was an amazing effort for a rookie team
Mechanicsburg, PA (PRWEB) August 28, 2012
The East Central Pennsylvania chapter of the American Cancer Society recently honored Preferred Warranties Inc. and its PACCO affiliate as the region's top rookie fund-raising team in the 2012 Relay for Life drive. The announcement was made at a wrap-up celebration for the year-round event, which culminated with the 24-hour relay in May and officially closes at the end of August.
"The employees at Preferred Warranties and PACCO worked hard to raise all that money during the course of the year, a total contribution of $5350," said Leslie Wagner, regional Income Development Representative for the American Cancer Society. "The new teams bring in a lot of excitement, and it was an amazing effort for a rookie team."
A total of 59 teams, including ten rookie teams, participated in the East Central Pennsylvania's 2012 Relay for Life.
"The Pottsville event is one of the largest in the state, and this year raised over $161,000," said Ms. Wagner. "We are so appreciative, and so are the people of Central Pennsylvania. The money we have raised for research is literally saving lives and supporting cancer victims right here, every day."
Ms. Wagner presented a banner to team captain Sharon Coleman, who represented all of the Preferred Warranties/PACCO participants at the wrap-up event. Money was raised through special meals and other internal fundraising events held throughout the year. Proceeds and other employee contributions were matched by Preferred Warranties and their financing affiliate, Preferred Automobile Credit Company (PACCO). Both companies are located in the Pinebrook Plaza office center on Route 61, near Orwigsburg.
The company that protects cars from coast-to-coast also looks after a local road.
The ACS Relay for Life was the largest of many community efforts that the two companies and their employees support throughout the year. In 2011, PWI and PACCO joined the Adopt-a-Highway program to help clean up a 2-mile stretch of Red Dale Road between Orwigsburg and Hawk Mountain.
Preferred Warranties Inc. has been a quality leader in aftermarket vehicle protection plans since the company was founded in 1992. In 1998, it was ranked #179 on the Inc. 500 list of fastest growing U.S. companies and earned a Torch Award for Marketplace Ethics from the Better Business Bureau. Today Preferred Warranties employs 72 people in its Orwigsburg claims and customer service center, as well as reps in 17 states where Preferred Warranties are sold through dealerships specializing in pre-owned vehicles. PACCO employs 13 people.