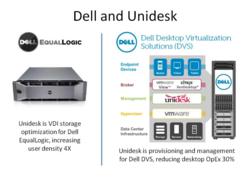 Marlborough, Mass. (PRWEB) August 27, 2012
Virtual desktop layering leader Unidesk is showcasing successful VDI customers and its newly announced Unidesk 2.0 virtual desktop management software at VMworld 2012 in San Francisco this week. Attendees can see live demos of Unidesk 2.0 at Unidesk Booth 2425 or Dell Booth 1523. Unidesk and Dell announced last quarter that Unidesk is now available as part of Dell's portfolio of Desktop Virtualization Solutions (DVS).
Unidesk's booth is being staffed by IT customers with successful VDI implementations across a wide range of industries. VMworld attendees can meet Farmers Mutual Hail Insurance Company of Iowa, Fresno County Office of Education, Hartnell College, Mercer University, Nationwide Children's Hospital, Southwest Michigan College, Tulare County Government of California, University of Wisconsin Oshkosh, and Vigo County Government of Indiana to learn from their experiences implementing Unidesk with Citrix XenDesktop® and VMware View™. The Dell booth will feature a new case study on the University of Connecticut, which has deployed Dell DVS Enterprise with Unidesk and VMware View as part of the school's Virtual PC (vPC) initiative.
Unidesk is the most deeply integrated third party VDI management solution for VMware View, and is the desktop layering leader due to its N-layer™ technology, which manages users (profiles, documents, and user-installed apps), departmental and core applications, and Windows gold images, all in one solution. Unlike other approaches that offer only one or two layers, Unidesk enables IT managers to create desktops that are customized and yet standardized, simply by mixing and matching discrete App layers on top of the same OS layer. The flexibility offered by N layers finally makes it possible for IT organizations to avoid the gold image proliferation that stalls many VDI production deployments, as well as the cost, time, and expertise previously required to virtualize applications.
Unidesk 2.0 builds on the company's core desktop layering technology with new capabilities such as VMware vSphere® Hypervisor integrations to greatly improve fault tolerance and performance. New user layer snapshots and restore point automation have been added for highly efficient desktop backup and effortless desktop repair and recovery. Also new are storage tiers for enhanced cost/performance optimization, and installation wizards that take the guesswork out of implementing VDI.
See Unidesk at VMworld 2012 booth 2425 or at Dell booth 1523.
Click to Tweet: At @VMworld, @UnideskCorp releases V2, layering simplifies @VMwareView & @XenDesktop. Talk to successful #VDI customers at Booth 2425.
About Unidesk
Unidesk Corporation (http://www.unidesk.com) accelerates Virtual Desktop Infrastructure (VDI) deployments and simplifies desktop management. Unidesk® desktop layering software is the easiest way for IT organizations to package and deliver applications, patch Microsoft Windows®, sustain user-installed applications and other user customizations, and optimize storage for virtual desktops hosted on VMware vSphere®. By using Unidesk to create, manage, and repair desktops for Citrix XenDesktop®, VMware View™ and other brokering solutions, customers can expand VDI to more users, reduce desktop operations costs up to 30%, cut VDI storage costs up to 70%, and foster a more productive, agile workforce. Unidesk is available through an expanding network of solution partners and OEM partner Dell. Unidesk Corp. is a privately-held company with headquarters in Marlborough, Mass, USA.
# # #
Unidesk is a registered trademark of Unidesk Corporation in the United States and/or other jurisdictions. All other trademarks and registered trademarks are property of their respective owners.