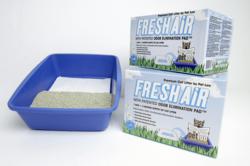 We are proud to bring an innovative cat litter option to the industry and to pet owners worldwide.
Los Angeles, CA (PRWEB) August 27, 2012
Bacteria and its odor control is one of the biggest concerns cat owners have when it comes to litter. While other litters can minimize the smell of ammonia, none have been able to totally eliminate it. That's all changing with a breakthrough product which actively deals with the true source of the problem – bacteria. Recognizing a void in the marketplace, Pet Loo has launched Fresh Air Cat Litter, the world's first and only Triple Action Odor & Bacteria eliminating litter. Now available online, at Petco stores Sept. 1 and at independent retailers across the U.S. and Canada throughout September, Fresh Air Litter boasts a triple action odor control that eliminates fecal odor, urine odor and odor-causing bacteria.
Most litters on the market today clump to prevent urine sinking to the bottom of the cat litter box. Fresh Air Cat Litter has a Patented Odor Eliminating Pad™ that prevents bacteria growth in the litter box and does not require any removal of clumps to remain pristine, providing a maintenance free litter solution that lasts two months. The non-clay litter eliminates urine at the molecular level by trapping ammonia and converting it into nitrogen and water that is then evaporated, significantly reducing health risks to you, your cat and your family.
Available online as of August 27, Fresh Air Cat Litter has already received an overwhelming response, with current pre-sales of 60,000 units, which Pet Loo CEO and Founder Tobi Skovron anticipates will reach 100,000 units by Sept. 1. His goal is to grow to 1 million units per month as the product hits the market.
"Our current and future success is a direct result of the time and effort we dedicated toward testing and perfecting this product over the past two years," said Skovron. "We are proud to bring an innovative cat litter option to the industry and to pet owners worldwide."
In addition to being the most powerful and effective bacteria and odor control cat litter on the market, Fresh Air Cat Litter offers the following benefits:

A proprietary syrup that coats the litter to minimize dust
Categorically contains no silica dust
The world's first litter containing a patented carbon pad
Granular sized litter designed specifically to minimize tracking
Non-clumping so only solid waste removal is required (no more scooping clumps!)
Made from an all natural inert mineral that is 100% safe (even if ingested accidently by the pet)
Product weighs less, costs less and lasts twice as long as traditional litter products.
Pet Loo is widely known for its innovative "Backyard in a Box" patented pet toilet, which has recently been featured in major national media outlets such as The Chicago Tribune, CNN, CNBC.com and USA Today, among many others. The company is now actively expanding its offerings to become a complete pet waste management manufacturer with a core value of innovative, eco-friendly products and technology.
Fresh Air Cat Litter is available in two sizes and costs $21.99 for a 9-lb. box and $33.99 for a 14-lb. box. For a list of store locations or to purchase Fresh Air Cat Litter online, please visit http://www.thepetloo.com.
About Pet Loo
The Pet Loo concept was invented in 2003 by Melbourne, Australia based-Founder and CEO, Tobi Skovron when he was just 23 years-old. The business officially launched in 2006 under Pup-Pee Solutions Pty Ltd and won the People's Choice award on New Inventors, the ABC television program in Australia. Simply put, The Pet Loo or "backyard in a box" is a unique solution to a worldwide problem facing pet lovers – how can I be a pet owner if I don't have a place or the time to let my pet out? By using a patented drainage system, synthetic grass and 100% chemical free, hygienic and odorless materials, The Pet Loo provides an indoor potty option for a pet. It is ideal for pet owners living in apartments, condos, houses, offices, or boats or anywhere that does not have an easy option for taking a pet outside. The Pet Loo has proven to be a great help for the elderly and disabled who desire the therapeutic benefits of pet ownership, but are not physically able to meet all of its outside needs. Today, The Pet Loo is used in over 84 countries around the world. From celebrities including Dr. Phil to its average customer – a 22-44 year-old female – The Pet Loo continues to grow in revenue and sales. To purchase The Pet Loo, visit the online store at shop.thepetloo.com. "Like" The Pet Loo on Facebook at http://www.facebook.com/PetLoo, and follow on Twitter: @PetLoo.
# # #