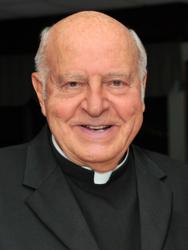 Paterson, New Jersey (PRWEB) August 26, 2012
On June 6th, Msgr. Vincent E. Puma, founder of Eva's Village, New Jersey's most comprehensive anti-poverty organization, died leaving a legacy few could match. "Our mission is simple, we help the poor," said Rev. Msgr. Vincent E. Puma, thirty years ago, upon founding Eva's Kitchen in the basement of St. John's Cathedral.
Coming to his aide were many parishes from the Paterson Diocese, who cooked, served and cared for the growing population of hungry and homeless people coming for help. As Msgr. Puma continued to expand the mission of Eva's Village and meet the growing need of the community many individuals, groups, organizations and corporations stepped forward with their support. With his passing it was not surprising that these same supporters came forward to honor his memory.
In the months following his death, Eva's Village received donations in his memory from just a few dollars up to a fund established as the Msgr. Vincent E. Puma Memorial Fund by a long-time supporter who wanted to do something tangible in his memory. "We wish to do something tangible in memory of Msgr. Puma as evidence of our deep respect for him and in thanks for his friendship and life's work," stated the donor. "Msgr. Puma's life in service of the poor was an inspiration to us and so many. His inherent holiness was manifested in a practical and productive way, be it founding and building Eva's or quietly helping a troubled person turn their life around.
Until his health failed, Msgr. Puma remained a steadfast supporter of Eva's Village, bringing busloads of people to Paterson to see the work being done. "Testimonials from clients, staff, volunteers and donors streamed into our office in celebration of Eva's 30th Anniversary on April 19," commented Marie Reger, Executive Director of Eva's Village. "We were so pleased to share these loving statements with Msgr. and he bid us all a final farewell by thanking his staff, volunteers and donors for 30 years of hard work, but it is we who are indebted to him for showing us the way to help the poor."
About Eva's Village
Founded by Msgr. Vincent E. Puma in 1982 as a response to the poor and homeless in Paterson, NJ, Eva's Village is a non-profit comprehensive social service organization with a mission to feed the hungry, shelter the homeless, treat the addicted and provide free medical and dental care to the poor. Through almost three decades of service, Eva's Village has established a unique record in facing community challenges and changing the lives of the hungry, homeless and addicted. It has grown from a simple soup kitchen to become the most respected anti-poverty program in New Jersey. Eva's Village now includes fourteen integrated programs housed in numerous buildings spanning several city blocks in Downtown Paterson.
To learn more about Eva's Village, or to donate or volunteer, visit http://www.evasvillage.org.