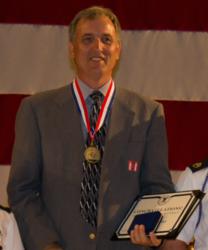 This championship is like winning the Super Bowl.
Grand Island, NE (PRWEB) August 28, 2012
World Class High Power Rifle Champion, Carl Bernosky defended his title at Camp Perry, Ohio on August 11, 2012, with a back-to-back winning performance. Despite crosswinds and intermittent rain throughout the match, Bernosky shot a final aggregate score of 2391-141 to bring in his 10th career win.
Using an AR-15 platform based match rifle, Bernosky shot Hornady 6mm bullets throughout the competition, including Hornady 75 grain V-MAX from the 200 yard line, 87 grain V-MAX from the 300 yard line, and 105 grain A-MAX from the 600 yard line. "It's easier to concentrate on each shot's performance when I'm confident I have the best ammunition," Bernosky said.
Bernosky won impressive first place wins in the following trophy matches over the four-day match:

Mumma Trophy Overall National Championship
NRA Match Rifle Championship
McCann Trophy
Marine Gunner Boyd II Memorial Match
Civilian Championship Award
Vandenberg Cup Match
Clarke Trophy Match
Erdman Trophy Match
Scott Trophy Match
Bernosky prepared for his 18th return to Camp Perry with a serious physical fitness regime beginning last winter. He shoots various disciplines throughout the year, but focuses completely on high power in July.
"With every match throughout my career, I learn something which adds to the level of experience," said Bernosky. "This championship is special to me because the match is rich in tradition and history. It's the shooting world's Super Bowl."
Founded in 1949, Hornady Manufacturing Company is a family owned business headquartered in Grand Island, Nebraska. Proudly manufacturing products that are made in the USA, Hornady Manufacturing is a world leader in bullet, ammunition, reloading tool and accessory design and manufacture.
For further information regarding Hornady products, visit the company web site at http://hornady.com. Media members interested in Hornady products for editorial review, should contact Everett Deger at edeger(at)hornady(dot)com.