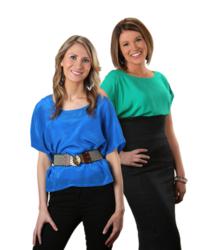 Boise, Idaho (PRWEB) August 24, 2012
Between dorm life and study time, it's safe to say that most college kids are short on sleep, time and money. Even with limited resources it is possible for college students to live like they did at home through smart coupon use, say frugal living experts, Joanie Demer and Heather Wheeler, founders of TheKrazyCouponLady.com. With a few simple steps and in only an hour a week, busy college co-eds can transform into money-saving phenoms.
Step #1 Show me the Coupons – Success requires knowledge. Know where to QUICKLY get your hands on this hot commodity.

The Sunday paper has the largest array of coupons. Grab one at the gas station, the local coffee shop, or subscribe. Try calling the paper directly for any special savings or unused inserts. For free inserts, ask your new-subscribing co-workers or friends to save their coupons inserts for you.
Visit TheKrazyCouponLady.com's printable coupon database. Get instant access to thousands of free printable coupons.
Check store websites, like Kroger, Safeway, and CVS for digital coupons that load straight to store loyalty cards. No clipping necessary.
Try Target's mobile-to-go coupons, where coupons are loaded straight to mobile phone.
"Like" favorite stores/manufacturers on facebook and be privy to coupons exclusive to fans.
Step #2 Timing is Everything – Learn where and when to use coupons. That's the key.
ONLY use a coupon in conjunction with a store sale or promotion.
Consult the pros. TheKrazyCouponLady.com features most of the national grocery and drugstore chains, like Walmart, Target, CVS, RiteAid, and Walgreens. Every week the available coupons are matched up with the current sales and promotions to maximize savings. No need to look anywhere else. Everything you need to know is in one spot.
Step #3 The Age of Apps –With the wide array of available phone apps, couponing just got easier!
Coupon Sherpa- With this free shopping app for Android and Apple devices, you can easily find mobile or paperless coupons at a wide variety of stores, including grocery stores and favorites like Bath and Body Works, GNC and Best Buy.
GeoQpons – This app lists over 150 stores and their coupons. Walk into a store, like Bath & Body Works, without a paper coupon and show them the coupon code on your app and voila! Save $10 fast and easy!
Shopper – This app makes staying on a budget easy. Create your shopping list and stick to it while this app searches for coupons and adds up your total!
MobiQpons – This app searches for all types of coupons and special deals according to your location from restaurants to oil changes to drugstore deals.
Shopkick - This app is available for both iPhone and Android phones. Get paid by checking in to featured stores and scanning listed items. Shopkick also provides a list of special deals available only for Shopkick users. These range from percentage discounts to dollars off a purchase. As with the other apps, you can earn rewards by referring friends.
Wowpons- Forgetting coupons at home doesn't mean you can't save. Just scan the groceries barcode and wowpons will find all available coupons! Then scan right from the phone at the register and save.
Step #4 Make a List and Check it Twice - Getting to the store without a list blows the budget and wastes time. Create a list throughout the week according to coupons and sales!
Step #5 Stock Up Smarts – However you've managed to uncover the deals, buying in multiples maximizes savings. Purchasing a few of the same item at rock bottom prices saves you from paying full price when you have to have it. So don't just buy one, buy 2 or 3 and save for months to come!
Step #6 Don't Forget Discounts - Local businesses want to help out students. Don't be afraid to ask retail shops, restaurants, and movie theaters if they offer student discounts or coupons. Carry student ID everywhere and present it for great discounts such as 15 percent off at J.Crew, 10 percent off at Arby's, and 80 percent off Adobe software. Check out the big list of student discounts at TheKrazyCouponLady.com.