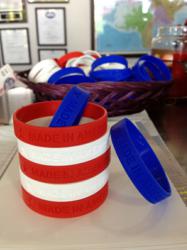 Elma, New York (PRWEB) August 27, 2012
Accessorizing is just as important to some people as the rest of their outfit and the Made In America Store is bringing their own Silicone Wrist Bands to their Elma, New York store location. The Silicone Bands bring a fresh new look since the store introduced their Solider Bands and comes with a simple, but effective message.
The Silicone Bands from the Made In America Store have the phrase "Made In America" engraved on the bands, to help spread the word of buying American. Like most Silicone bands, they bring awareness of something important, in most cases, cancer or juvenile diabetes awareness.
Looking to add the "Made In America" Silicone Bands to a Christmas gift or add some patriotic flare to your outfit? Click here to visit http://www.MadeInAmericaStore.com and for $2.00 a piece, you can get them in red, white or blue!
Consumers who visit the Elma, New York location can purchase 3 of the Silicone Bands for the discounted price of $5.00, saving them a dollar.
The Made In America Store, which is located at 900 Maple Road in Elma, New York, is committed to selling 100% American manufactured products. You can visit http://www.MadeInAmericaStore.com for more information or shop our catalog of over 3,500 products from over 300 vendors that are devoted to producing USA made products. All US military personnel, both active duty and veterans, receive a discount every day. Consumers can also keep up to date news articles, events, photos and contests with Facebook, Twitter, Google+, Pinterest and FourSquare!