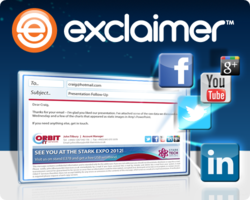 It makes corporate mail truly a part of your marketing strategy.
New York, New York (PRWEB UK) 24 August 2012
Exclaimer, an email signature software firm, launch their six tips on using email signatures for marketing today. The list, Exclaimer suggests, can help marketers get more benefit from mail.
"Think of all your staff and all the people they email," began Brad Shepard, Exclaimer product manager, "how can you make use of that visibility?
"Here are our six tips on turning email signatures into a marketing tool:
1. Get Social
Unilever added a Twitter link to their signature and went from 40,000 Followers to 235,000 in under a year. You've got all these contacts on mail, you want more on social media – the obvious answer is to connect them.
Put a social media button in your signature. Contacts can click it to Follow or Tweet you instantly – Share your product on Facebook or interact through any modern social network.
You've got so many active and talkative contacts on email – think of the benefit they can provide on social media.
2. Communicate Campaigns
Advertise a new product launch or discount with a banner under your signature. Every important interaction will be conducted, at least in part, through email.
Use that visibility. Every potential customer will know about that discount offer, every supplier and partner will know about the event you're attending.
It puts your marketing communication right where you want it to be – in front of your market.
3. Brand Better
You'll put hours or days of thought into a business card that's seen once or twice a year – but how much into an email signature seen thousands of times a day?
People expect a certain level of production value from a respectable company. If they see a blurry, pixelated logo, they might wonder why you don't have the time or resources to fix such a visible piece of your brand.
Say it's left out altogether. When contacts are talking to your staff and your competitors', they might find it hard to tell which emails relate to which products.
Simply adding a logo to mail lets them instantly link you to your product. They know that compelling cost-benefit analysis is about your product – not your rival's.
4. Certified Quality
No doubt your organization and your staff have a long list of credentials and qualifications – why aren't they in your signature?
Putting the official graphic for the Microsoft Partner Network or the New York State Bar Association on your signature can tell a contact, instantly and visually, that you know what you're doing – whether it's managing networks or writing contracts.
Authority can be hard to communicate quickly through text alone. Some people may not understand the 'MBA' after your name or know that MCITP stands for Microsoft Certified IT Professional.
But an image from an authoritative source – be it New York State or Microsoft – says all of that instantly.
5. Don't Overdo It
All these are extremely effective – the first time. Not every email needs a huge signature with a campaign banner, bank of social media buttons and a big brand logo.
Instead, you want to use email signature software to provide a much simpler version for replies – and to remove or adjust it entirely for email to colleagues.
Someone who sits across the desk doesn't need to see the logo for your company – he works there. Email signature software is essential for making sure the right version appears on the right email.
6. Capture It
You expect analytics on all online activities – signatures should be no exception.
Email signature software can automatically add a tracking code to all the links in your email signature. So you can see which contacts clicked which links in which employee's email signature.
You could follow up all the contacts who clicked on that banner for your limited time discount or send an invite to everyone. It makes corporate mail truly a part of your marketing strategy."
Unilever Twitter Followers statistic source: talent.linkedin.com