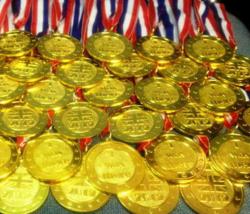 'I was there'
(PRWEB UK) 26 August 2012
If you are one of those incredible people who were part of the sensational spectacle Gold Solutions would like you to have the opportunity to own your own 'gold medal'. This is a solid metal 14k gold plated one in a special presentation box and instead of the normal price of £29.99 you can buy one at just £5.99.
As suppliers of many innovative gifts, Gold Solutions have commissioned the production of this special medal as a memento for anyone attending any of the major sporting or musical events in the UK in 2012. The medal has the logo 'I was there' on one side and the Union Jack and year 2012 on the other complete with a red, white and blue ribbon. It also has the Gold Solutions warranty of 14k gold plate certificate to prove its authenticity.
The founder of Gold Solutions Terry George, based in Kent, England said "we originally created this as a totally unique keepsake for anyone attending a major sporting occasion or live musical performance, who wanted something 'different' to keep as a memento from that event. However after seeing with disbelief, along with most other people, how wonderful these volunteers were we thought that some of them, or their families, might like to get one of these medals at a special price.
These superb volunteers will remember what they did for the rest of their lives and will constantly relate the phrase 'I was there' with pride. We did not however want them to have to pay the normal price so we will be releasing just 400 of them at the special price of £5.99 instead of the normal £29.99. They are a limited edition medal and will never be repeated again"
To purchase one for yourself, or someone you know, as a surprise gift just go the GOLD MEDAL and order them while they are available.
Although Gold Solutions specialise in supplying diy home gold plating kits and have sold them all over the world, they also produce many 'unique' gifts and items never seen before for individuals as well as for companies to use as promotional 'gifts'.
For more information go to http://www.goldsolutions.eu or email info(at)goldsolutions(dot)eu