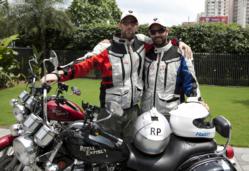 I am so proud that we are in India and finally on the road, exploring this fantastic country; and what an adventure we have ahead of us! -Colin Pyle
New Delhi, India (PRWEB) August 31, 2012
Canadian adventurers and television presenters, Colin Pyle and Ryan Pyle, have just left on their first day of riding on what is turning out to be another epic adventure television production. After their successful Middle Kingdom Ride around China in 2010, Colin and Ryan have, this time, set their sites on India. Today they have covered about 350km and headed form Delhi north in to the Himalayan mountain range for the first leg of their journey. Their 60 day television production, which has just begun, will cover 14,000km and be a complete circumnavigation around India – exposing them through some of the most populated and remote regions on the plant.
Together Colin and Ryan will encounter heavy rains, flooding, landslides, freak hailstorms, extreme altitude (above 5000m/16,000ft), sand, gravel and road construction. They will test their own personal physical and mental limits as they film their television series under challenging conditions.
Colin and Ryan Pyle are brothers from Toronto, Canada. But that's about all they have in common. Ryan has spent the last decade in China building his career as a Documentary Photographer. Colin stayed closer to home, in Toronto, and built up, and sold, his own successful currency trading company. Together they plan to showcase much of India's change and development. The general purpose of the trip is to put India on display. To explore the visual and cultural wonders that is India. With a massive population, crowded cities, abundant minorities and its stunning natural landscape; India offers a traveler an experience like no other. Colin and Ryan have titled their project, "The Inida Ride".
Colin and Ryan will produce both a television series and a written book on their experiences in India, which will hope to be both entertaining and motivating, as these brothers will have to overcome challenges on a daily basis to ensure they complete their journey safely. Anytime someone puts him or herself out there, into the wild, and opens themselves up to the experiences of such a vast and unique country one can't help but encounter moments of danger, humor, sadness, gratification and personal gain and setback. Their journey will prove to be both colorful and dramatic, both intense and fulfilling.
You can follow The India Ride at TheIndiaRide.com, Facebook, Vimeo and Twitter.
The India Ride would not be possible without our amazing sponsors: Mandarin House Language School, REV'IT Clothing, HULT International Business School, Zenith Watches, TAG Heuer Eyewear, Cardo Scala Rider, ThermaHelm Halo Motorcycle Helmets, The Westin Gurgaon, Mountain Dew and Lenovo.
To learn more about previous productions by Colin Pyle and Ryan Pyle you can visit their production company website G219 Productions. Their last production was a Guinness World Record setting adventure in 2010 for their Middle Kingdom Ride, which was a 65 day – 18,000km – motorcycle expedition around China. Their 6x30min television series will be aired in late 2012, and their book will be available by the end of August 2012. You can learn more about that production at: website http://www.mkride.com.