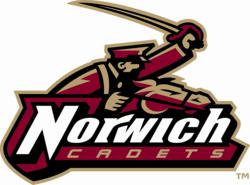 NORTHFIELD, Vt. (PRWEB) August 24, 2012
The Norwich University football team has been selected as the Eastern Collegiate Football Conference (ECFC) preseason favorite as it earned the top spot in the 2012 preseason coaches' poll, announced by the league on Thursday afternoon.
The Cadets, who were the only team to post an undefeated season in conference play last season, garnered six out of a possible seven first-place votes. Maritime (N.Y.) has been picked to finish second and was the only other school to receive first-place votes with two.
Gallaudet, Mount Ida and Castleton round out the top five places in the poll, followed by Anna Maria, Becker and Husson.
Norwich will look to improve upon last season's historic season that saw the Cadets clinch their second league title and advance to the first round of the NCAA first the first time in program history.
The Cadets will open the 2012 season on Saturday, Sept. 1 at Sabine Field for a 1:30 p.m. non-conference matchup against Western New England. Norwich will open ECFC play on Saturday, Sept. 29 when it travels to Mount Ida for a 1:00 p.m. kick off.
Norwich University is a diversified academic institution that educates traditional-age students and adults in a Corps of Cadets and as civilians. Norwich offers a broad selection of traditional and distance-learning programs culminating in Baccalaureate and Graduate Degrees. Founded in 1819 by Captain Alden Partridge of the U.S. Army, Norwich University is the oldest private military college in the United States of America and the birthplace of our nation's Reserve Officers' Training Corps (ROTC). http://www.norwich.edu