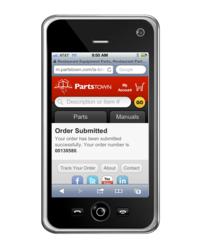 It's fun to see what a group of passionate, committed people can accomplish
Addison, IL (PRWEB) August 27, 2012
Parts Town, LLC, was recognized by Inc. Magazine as one of the fastest growing companies in the country for the fourth consecutive year. Parts Town is a distributor of restaurant equipment parts to chain restaurants, independent restaurants, and food equipment service companies. Parts Town supports food equipment manufacturers by promoting the value of genuine OEM parts and improving parts availability for equipment service.
Earlier this year, Parts Town was recognized for the third consecutive year in the Crain's magazine Fast Fifty rankings, this time as the 16th fastest growing business in the Chicago area.
"It's fun to see what a group of passionate, committed people can accomplish," says Parts Town president Steve Snower. "I need to thank the Parts Town team for their passion towards achieving our goals. I'd also like to thank our customer and manufacturer partners for their belief in our mission."
The company's mission, to which its consistent growth can be attributed, revolves around the idea of changing its industry by delivering an extraordinary customer experience and innovative web-based solutions. In addition to the groundbreaking Partstown.com website, the most utilized genuine OEM parts research and purchasing tool in the world, Parts Town has set itself apart with the industry's first smartphone app. The app provides mobile access to a massive library of equipment manuals to support the needs of food service technicians.
Parts Town's complete commitment to genuine OEM parts is crucial in developing partnerships with food equipment manufacturers and major chain restaurants. Through these partnerships, Parts Town is able to simplify and improve parts supply chains and provide customized parts solutions that dramatically improve customer service and deliver meaningful cost savings.
"We fully expect to be on the list for many years to come," Snower asserts. "Honestly, anything else is totally unacceptable around here."
About Inc.
Inc. ( http://www.inc.com), the only major business magazine dedicated exclusively to owners and managers of growing private companies, delivers real solutions for today's innovative company builders. It provides hands-on tools and market-tested strategies for managing people, finances, sales, marketing, and technology. A Mansueto Ventures LLC publication, Inc. inspires and informs with cutting-edge coverage that reflects our readers' energy, brashness, and imagination.
About Parts Town
Parts Town is a leading distributor of genuine OEM restaurant equipment parts. Focused on delivering a unique customer service experience and state of the art website, Parts Town customizes solutions for both chain restaurants and food equipment service companies. Parts Town partners closely with the leading manufacturers of commercial cooking, refrigeration, ice, and beverage equipment to improve their parts supply chain, delight their customers, and grow genuine OEM parts sales.