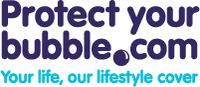 We are all well aware that modern technology plays an important part in everyday life, but it is incredible to think that so many hours are spent using gadgets
(PRWEB UK) 30 August 2012
It's been discovered that Brits spend over nine hours a day fiddling with gadgets! Protect your bubble studied 3,000 men and women and discovered that people are so reliant on modern technology that they use it from the minute they get up to the minute they go to bed. It doesn't even stop there - 12% of Brits have even been known to dream about their gadgets on occasion!
So what exactly are they doing in this time? According to the survey, in one day the average person spends:
4 hours solid on a computer
1 hour 34 minutes on a laptop
56 minutes on a smartphone (browsing, emailing, texting and social networking)
38 minutes on computer games
38 minutes on a normal mobile phone (not a smartphone)
38 minutes on an mp3 player
5 minutes setting up the sat nav
16 minutes switching TV channels
10 minutes setting up Sky Plus
8 minutes tinkering with the washing machine
1 minute setting the clock radio
Stephen Ebbett, Managing Director of Protect your bubble, commented: "We are all well aware modern technology plays a huge part in everyday life, but it is incredible to think that so many hours are spent using gadgets. The average person probably isn't even awake for much longer than 16 hours a day and more than half of that time is completely dominated by gadgets."
Despite relying on gadgets to get them through the day, only a quarter of people that were surveyed admitted to being totally obsessed with them. And 61% were pretty surprised at how much they depend on modern technology.
But gadget obsession doesn't stop there. Seven in 10 Brits frequently use more than one gadget at a time - often sitting in front of the TV, working on the laptop and checking their mobile phone at the same time. And 47% find it unbelievable when they come across someone who doesn't own a smartphone, laptop or any other gadget they consider essential for every day life.
Eight in 10 people are agreed that modern gadgets save them loads of time and 70% dread the thought of any of their gizmos breaking or getting lost - which is where Protect your bubble come in. Gadgets are a vital to us and Protect your bubble's gadget insurance will secure all those items you just can't live without. Their personal insurance is simple, easy and uncomplicated - from buying a policy to making a claim.
About Protect your bubble
Backed by a Fortune 500 company, Protect your bubble is the UK's largest specialist gadget insurer that also offers a wide range of gadget insurance products, iPhone insurance, Smartphone insurance, Laptop insurance mobile phone insurance and more all at great value affordable prices.
Related Links:
Gadget Insurance - uk.protectyourbubble.com/gadget-insurance/
Mobile Phone Insurance - uk.protectyourbubble.com/gi-mobile-phone-insurance.html
Find Us On:
Facebook: facebook.com/ProtectYourBubble
Twitter: twitter.com//protectyrbubble
YouTube: youtube.com/user/protectyourbubble