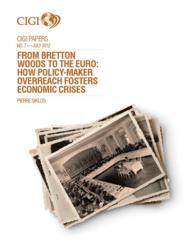 Siklos concludes that 'grand strategies such as Bretton Woods give a false sense that we know far more about how economies function and how they are likely to react to shocks emanating from different sources than we really do.'
Waterloo, Ont. (PRWEB) August 26, 2012
Policy makers must look beyond economic factors and consider domestic political constraints when designing new international monetary arrangements, says a new paper from The Centre for International Governance Innovation (CIGI).
In From Bretton Woods to the Euro: How Policy-Maker Overreach Fosters Economic Crises, CIGI Senior Fellow Pierre Siklos considers the relevance of the Bretton Woods system for the prospects of reform of the international monetary system and in the context of the ongoing euro area financial crisis.
Siklos concludes that "grand strategies such as Bretton Woods give a false sense that we know far more about how economies function and how they are likely to react to shocks emanating from different sources than we really do. The global financial crisis of 2008-2009 and the recent crisis in the euro zone have revealed that, contrary to the notion subscribed to until recently by most economists, namely that price stability and financial stability go hand in hand, the two can be quite separate phenomena." He adds that "Instead of reaching for the moon, policy makers should acknowledge their past mistakes. In particular, central banks have stubbornly resisted acknowledging their complicity in the events that led up to the crisis of 2007–2009 — and should aim for undertakings that seem feasible and likely to elicit broad support."
Siklos offers three broad conclusions from his review of the failure of certain policy regimes to last or provide a certain level of economic stability:

Grand designs such as the Bretton Woods system or the euro project promise too much, while understating the hidden and not-so-hidden risks that can threaten their survival at any time. Time and again, politicians overreach and agree to rules or create institutional arrangements that are inherently flawed.
The planning horizon of politicians is shorter than that of central bankers, and the reconsideration of treaties that are difficult to change is fraught with complexity. Treaty changes, moreover, are time-consuming to negotiate and have political and economic benefits that are likely to bear fruit only well after some future election. There are insufficient incentives to implement economic governance standards that are resistant to economic crises.
Unless politicians are willing to cede national sovereignty to supranational agencies (which may well dilute democratic accountability) or create rules so inflexible that they cannot accommodate alternative decision-making principles during crises, there is little reason to hope that any of the reforms to euro area governance currently being contemplated will resolve problems once and for all. In the European context, this might mean temporarily ceding control over the government budget and fresh elections, before control over fiscal representatives is eventually restored.
For more information on From Bretton Woods to the Euro: How Policy-Maker Overreach Fosters Economic Crises, including a free PDF download, visit http://www.cigionline.org/publications/2012/8/bretton-woods-euro-how-policy-maker-overreach-fosters-economic-crises.
ABOUT THE AUTHOR:
CIGI Senior Fellow Pierre Siklos's research interests are in applied time series analysis and monetary policy, with a focus on inflation and financial markets. Pierre is the director of the Viessmann European Research Centre at Wilfrid Laurier University, a research associate at Australian National University's Centre for Macroeconomic Analysis and a senior fellow at the Rimini Centre for Economic Analysis. Pierre serves on the editorial boards of Economics Research International, Economic Systems and the Journal of Economic Research, and is the former managing editor of the North American Journal of Economics and Finance.
MEDIA CONTACT:
Declan Kelly, Communications Specialist, CIGI
Tel: 519.885.2444, ext. 7356, Email: dkelly(at)cigionline(dot)org
The Centre for International Governance Innovation (CIGI) is an independent, non-partisan think tank on international governance. Led by experienced practitioners and distinguished academics, CIGI supports research, forms networks, advances policy debate and generates ideas for multilateral governance improvements. Conducting an active agenda of research, events and publications, CIGI's interdisciplinary work includes collaboration with policy, business and academic communities around the world. CIGI was founded in 2001 by Jim Balsillie, then co-CEO of Research In Motion (RIM), and collaborates with and gratefully acknowledges support from a number of strategic partners, in particular the Government of Canada and the Government of Ontario. For more information, please visit http://www.cigionline.org.
-30-