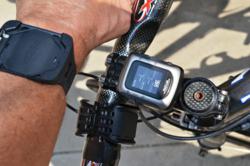 At the price point, the level of features is unsurpassed and I was very impressed
Bozeman, MT (PRWEB) August 24, 2012
The Magellan Switch Up GPS watch was given an in-depth initial review by the Heart Rate Watch Company blog. After ultra athlete John Yarington has completed a month of use in multiple sports there will be further updates.
"My initial thoughts were that this is an exceptionally well thought out product with features and measurement options that few others have and, at its price point, it is probably one of the best GPS watches on the market today," says Rusty Squire, President of the Heart Rate Watch Company. He adds, "It switches from bike to run and run to bike better than any watch we have ever tested and its bike mount capabilities with the multi-sport mounting kit are unsurpassed."
Fortunately, Magellan has good leadership as several employees from Garmin fitness came over to run their fitness division. "Magellan is not a new quantity in GPS, in fact, they pioneered it back in the 1980's and I was very impressed when the watch locked onto 8 satellites in a remote location - that was pretty amazing," says Squire. The watch is very comparable to the Garmin Forerunner 910XT but has a $100 lower price point.
BATTERY LIFE FOR UP TO 24 HOUR AT ONE SECOND RECORDING
Adding the auxiliary battery can add an additional 16 hours of GPS run time to the Magellan and this is a battery the users can add themselves very easily. "One second recording intervals are key for anything done at speed so this watch poses a superb option for ultra athletes with the auxiliary battery," says Squire.
REALLY IN DEPTH DATA
The Magellan gives users the ability to measure five heart rate zones per sport with loads of different outdoor sports options. The back light can be set for 15 seconds, 30 seconds or it can be set to run full-time, although it does drain battery quicker that way. The ability to get cadence for biking and running, power data for cycling and all major metrics including heart rate, speed, distance, maps, navigation and more makes this watch a real player in the GPS market.
"At the price point, the level of features is unsurpassed and I was very impressed," says Squire. He adds, "Having a barometric altimeter, percentage gradient and all the metrics it offers is tremendous and we think once some users get out there with this watch that the buzz will make it a great success."