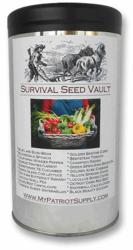 (PRWEB) August 28, 2012
There has been a decided spike in survival gardening in the USA tied to several socioeconomic factors including:

American ingenuity
Environmental stresses
Higher food costs
Food quality concerns
Interest in returning to rural roots & enhancing community
American Ingenuity for Survival
Americans are perhaps best known for their sense of independence and ingenuity, especially in the brunt of hard times. These traits have helped to spur the rise in popularity of survival gardening. Recent wildfires, tornadoes, dust storms, hurricanes and even disastrous hail storms left many Americans without electricity for two or more weeks in early 2012 as unusual weather patterns caused wide spread power outages. These outrages brought home the realities of life without heat or air conditioning, refrigeration and in some dire cases, access to food, water and utilities. Individuals responded to these hardships with a greater commitment to self-reliance, which includes stocking the home with survival gear as well as securing a reliable food source.
Food Concerns
A rise in food exports, a seemingly relentless drought, concerns about genetic manipulation and chemical exposure, and a vulnerable food chain supply has made food a top concern for many Americans. All of these issues brought about a spike in the popularity of survival gardening. Savvy individuals realized they could purchase non-gmo, heritage "survival" seeds, and grow food of their own that they can trust and rely upon.
Urbanites Go Rural Agriculturally
Now front yards – even some of the most urban cities- have become designer survival gardens featuring a variety of climbing vegetables and berries, as well as cabbage, lettuce, kale and other leafy greens. These urban garden are viewed as both beautiful and function, and are a more productive use of space than expansive lawns. Tending one's own garden is also therapeutic and some gardeners participate in local farmers market where they can sell their excess produce and feel a sense of community. Others join in gardening groups to network their gardening skills. Many urban communities also seek out unused plots of earth and convert the free space into "community gardens," which are essentially survival gardens for the neighborhood at large.
Rising Demand for Heritage/Heirloom Seeds
Prospective gardeners look for what are called heritage or heirloom seeds, especially tomato, pepper, celery, lettuce and cabbage seeds. Once they are able to get seedlings started from these, they find it easier to cultivate more seeds for future use for bumper crops and future gardens. In this way, these gardeners insure the quality and safety of their produce. They also have more control over insects and the use of natural fertilizers.
About My Patriot Supply
http://www.MyPatriotSupply.com is North American's premiere online survival gear and emergency supply store. Founded on a passion for self-reliance, preparedness and freedom, My Patriot Supply offers top quality survival equipment and products, including the world famous Survival Seed Vault featuring 20 varieties of heritage seeds.