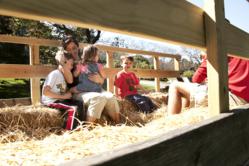 Wilmington, Delaware (PRWEB) August 26, 2012
Hagley Museum and Library is where the Du Pont story begins. For youth and families, it is where the magic begins every weekend in October.
Hayrides and Crafts
On Saturdays in October (6, 13, 20, and 27), families can take a unique hayride along the Brandywine, admire fall foliage, and see stone mill buildings and structures that date to the nineteenth century. Kids can get crafty and make cornhusk dolls, apple wreaths, and other seasonal crafts. Live musical entertainment and local apple cider will complete the autumn outing. Rides leave every half hour from the Millwright Shop, 11 a.m. to 4 p.m. Hayrides and crafts are included with admission and free for members.
"All-American" Day
On Saturday, October 27, visitors can watch a nineteenth-century "Base Ball" game and enjoy nineteenth-century games. The Diamond State Base Ball Club takes on the Mechanicsburg Nine in this season finale game. Nineteenth-century base ball is different from the baseball today. It was a fast-paced and dramatic game, played without gloves and with some different rules. Marshall Steam Museum at Auburn Heights Preserve will have a steam-powered popcorn popper making popcorn. The Belin House Organic Café will be selling baseball-favorites. Seating is informal: please bring a blanket and chairs. Activities begin at 1:00 p.m., and the game starts at 2:00 p.m. All-American Day is $2 for members, $3 for non-members, and free for children 5 and under. Use Hagley's Buck Road East entrance.
Activities and Demonstrations
Water Power Self-Guided Tour: a walk along the Brandywine reveals how water power was used to run the mills. Stops include a line shaft, dam, millrace, turbine-powered roll mill*, a restored machine shop*, an operating waterwheel, and a steam engine.* Be sure to stop and see the gunpowder testing explosion!
Social History: experience life in a nineteenth-century mill community on Workers' Hill.* Families can visit a school and try activities like writing with a quill pen and on a slate board, deciphering rebus puzzles, and solving problems on lesson boards, then tour the foreman's home and learn about the daily life of families.
*Scheduled demonstrations and/or hands-on activities
Hands-on exhibits
"DuPont Science and Discovery"
Sit in Jeff Gordon's #24 DuPont NASCAR, have a close encounter with a space shuttle suit, watch and wonder about the "happy and sad balls," and pick out the polymers. Plus there's so much more to learn and do in this dynamic exhibit of interactive fun. Open daily, 9:30 a.m. to 4:30 p.m.
"Easy Does It!"
Keep the wheels and axles turning, lift the levers, switch gears, and learn the ropes with pulleys! Discover the amazing secrets of machine technology in this hands-on exhibit. Open weekends, 1 to 4:30 p.m.
Community Support
In the spirit of the du Pont family who founded the black powder mills along the Brandywine, Hagley Museum and Library is committed to giving back to our community. Visitors are encouraged to bring donations of canned goods for the Food Bank of Delaware. Food donation barrels will be in Hagley's Visitor Center lobby through the month of October.
Admission
Admission to the entire 235-acre museum, including the exhibit, is $11 for adults, $9 for students and senior citizens, $4 for children six to fourteen, and free for children five and under.
Hagley Museum and Library
Hagley Museum and Library collects, preserves, and interprets the unfolding history of American enterprise. Hagley is located on Route 141 in Wilmington, Delaware. For more information, call (302) 658-2400 weekdays or visit http://www.hagley.org.
CONTACT:
Meg Marcozzi, Marketing Manager
(302) 658-2400, ext. 238
mmarcozzi(at)hagley(dot)org