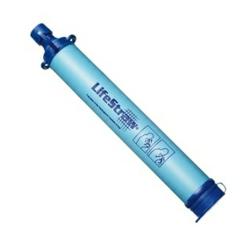 Hartford CIty, IN (PRWEB) August 29, 2012
My Patriot Supply, founded in 2008, serves the needs of the survivalist community, as well as adventurers, camp lovers and homesteaders. Taking pride in sustainability and self-sufficiency, this company's fast growing reputation is on the rise, featuring all of the best survival gear of 2012.
My Patriot Supply is proud to now feature the award-winning Lifestraw to their product mix, binging this convenient personal water filter to the pockets of adventurers, homesteaders and survivalist in North America. This tiny water filter fits in the average pocket or pouch and can be relied upon to filter out 99.99999% of waterborne bacteria (>Log 7 reduction) and 99.9% of waterborne protozoan parasites (>LOG 3 reduction). Weighing only 2oz, this fantastic tool won't add any significant weight or inconvenience to travelers, taking up roughly the same amount of space as a pen or a pencil.
This amazing little product filters 264 gallons of water and reduces turbidity, filtering down to 0.2microns. It requires little to no care at all, using no batteries. The Lifestraw personal water filter doesn't have any moving parts and is made with no chemicals and is BPA free. This environmentally friendly little device is very easy to clean and surpasses the EPA's standards for water filtration.
Internationally recognized and backed with a full year warranty, the Lifestraw has been used in the harshest of conditions since 2005 and has won awards around the globe. It is ideal for traveling internationally, where water is often of questionable quality. The same can be said for camping when there is a concern about the quality of the water. Campers cannot tell from looking at a lake or a stream whether or not the water is contaminated. This handy, compact water filtration system takes some of the guesswork and concern out of the adventure experience. Drink directly from lakes and streams with 100% confidence that you will not get sick.
Additionally, thanks to its incredibly small stature, Lifestraw can literally be used like a straw, negating the need to painstakingly filter water while filling canteens. Alternatively, campers and hikers alike can simply slip the straw into the body of water and drink directly from the source.
Travelers will be delighted to learn that Lifestraw can be used many times over before it needs replacing. Assuming travelers are drinking the recommended 3-4 liters of water a day, Lifestraw will last one person anywhere from 250 to 330 days of travel!
Lifestraw is one more incredibly useful tool for those seeking to live a lifestyle of self-reliance. Thanks to the remarkably high flow rate that Lifestraw boasts of, bottled-quality water is possible for anyone, regardless of their water supply.
At no other time is a tool like this more important than in the case of a natural disaster or other emergency situation. With natural disaster coverage by the media on the rise coinciding with economic challenges, more and more people are stocking up on emergency supplies. Lifestraw could very well be the difference between life and death in a crisis situation. When clean water is a necessity for keeping deadly diseases and dehydration at bay, this personal water filter becomes an absolutely priceless possession.