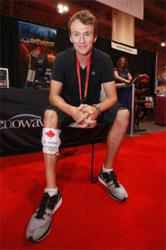 Saringer Life Science Technologies Inc., is a medical device company providing innovative therapeutic solutions for patients.
Toronto Ontario (PRWEB) August 28, 2012
The Venowave recently made its formal debut in the world of athletic fitness.
Following the successful use of the Venowave for athletic performance enhancement by Canada's triathlon team, led by Simon Whitfield, Saringer Life Science Technologies Inc. (SLST) capitalized on this momentum by participating at the recent Canfit Pro Trade Show held at the Metro Toronto Convention Centre.
Thousands of fitness buffs ranging from personal and sports trainers, fitness instructors, lifestyle coaches and mind-body instructors gathered at the 5-day event showcasing the latest technology and trends in the fitness world.
"Participating at Canfit Pro enables us to position and market the Venowave not just solely as a medical device but as an aide to enhance athletic performance as well," says CEO and Venowave inventor John Saringer, who initially marketed the Venowave as a device to promote circulation to prevent blood clots.
"But, definitely, our presence in a fitness trade show such as Canfitpro won't be the last," adds the engineer-trained Saringer who already has a list of similar trade shows to showcase the Venowave in the future.
A diverse number of trade show goers dropped by Saringer's booth to test the Venowave.
"A number of people came in to check it. I'm positive that our presence here would spark interest on the Venowave," says Saringer.
Visitors at the booth include massage therapists, personal trainers, athletic therapists and athletes themselves, specifically Olympian Simon Whitfield, who was given his own version of the Venowave – its typical black wrap was replaced with white adorned with the Olympic rings, the Canadian flag and Whitfield's name.
"We are so honoured to see him wear the device during the opening ceremonies of the London 2012 Olympics. And as a gesture of our appreciation, we decided to give him a customized version," says Saringer.
The Venowave is the flagship patented product of Saringer Life Science Technologies Inc. (SLST), a privately held medical device manufacturing and distribution company based in Stouffville, north of Toronto. The Venowave is approved by Health Canada, the U.S. Food and Drug Administration and is CE marked.
Initially marketed as a medical device to prevent Deep Vein Thrombosis, commonly known as "Economy Class Syndrome", the Venowave was accidentally noticed by Canada's Triathlon team while training at McMaster University, where the Venowave was undergoing clinical tests to possibly aid in the prevention of leg amputations on diabetic patients.
"Aside from the publicity that it has garnered, the mere fact that our Olympians took an interest and actually wore it for their conditioning only proves that the Venowave can serve the needs of athletes in terms of enhancing performance in their respective sports," says Saringer.
Saringer Life Science Technologies, the company behind the Venowave, is a privately-owned company that was founded by engineer/inventor, John Saringer. John works extensively with leading physicians/surgeons in the development of new and improved medical treatment devices in the fields of DVT prevention, vascular solutions, wound healing intervention and pain management.
The Venowave official website: http://www.venowave.com