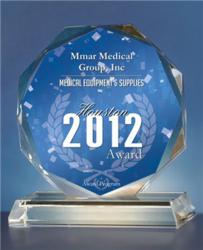 Houston, TX (PRWEB) August 27, 2012
MMAR Medical Group, a Houston-Based wholesale distributor of high-quality medical and sports therapy products, received the 2012 Houston Award from the Houston Award Program for its marketing achievement in the Medical Equipment and Supplies category.
Each year, the Houston Award Program recognizes the successful efforts Houston area companies make in their business category and in their local community.
The Houston Award Program recognizes local companies who enhance the quality of life and project a positive image of small businesses by serving their customers and the community in which they operate. The organization works with owners of local businesses, professional associations, trade groups and business marketing and advertising organizations. The goal of the Houston Award Program is to highlight the contributions small businesses make to the U.S. economy.
MMAR Medical Group was selected for the award based on information collected internally by the Houston Award Program and from other sources. Based in Houston, Texas, MMAR Medical Group has been in business since 1990. The company provides orthopedic rehabilitation and sports medicine products. The wholesale distributor, which ships merchandise throughout the United States, offers an extensive collection of name-brand products that meet the needs of individuals recovering from surgery or sports-related injuries.
The most recent addition to MMAR Medical Group's merchandise stock is CEP compression sportswear, form-fitting, spandex-type apparel which is a favorite among athletes. It has been scientifically proven that compression sportswear increases the blood flow of athletes, allowing them to use less energy yet reach higher speeds. Among the advantages of compression sportswear is keeping the muscles warm that athletes use the most and this helps to prevent fatigue and strain on the muscles. Compression sportswear also prevents rashes and chafing by wicking sweat away from the body.
For years, compression has been recommended by medical professionals for patients who want to improve their blood circulation and the health of their legs. Compression sportswear has also been shown to decrease muscle soreness, weakness and stiffness. Athletes wear the apparel underneath or with their clothes. MMAR Medical Group offers compression shorts for men and women, compression running, ski and cycle socks, compression sleeves and compression ankle and knee braces.
The company also has a variety of cold therapy machines, many of which have been recommended by doctors for their patients. Cold therapy systems help to reduce the pain or swelling of soft tissue that occurs after surgery or a trauma. By providing cooling relief, cold therapy units have proven to help patients have a faster recovery.
MMAR Medical Group is known for having a wide selection of orthopedic braces and support products. The merchandise includes braces for the hand, wrist, knees, back, neck, shoulder and ankle. Arthritis, osteoarthritis, ACL and hinged knee braces are also available.
According to the MMMA Medical Group, the company carries a large selection of supplies because meeting their customers' needs is a top priority.