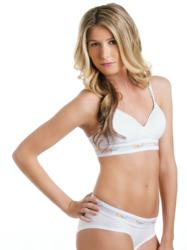 LOVE this bra and it will be perfect for pregnancy and nursing! I've tried at least a dozen other maternity bras and none of them even come close to the comfort and versatility of this bra.
Huntington Beach, California (PRWEB) August 26, 2012
Going through nine months of pregnancy followed by weight loss and breast feeding is a glorious feat for your body. However, these drastic changes can be problematic when it comes to finding comfortable undergarments. Most women buy multiple bras during this time to accommodate their changing size. The problem is that traditional bras are uncomfortable, fit poorly, and lack support. TOMgirl Apparel, a lingerie and loungewear company has created a solution to this problem.
The Comfort Bra with a VELCRO® brand closure on the back adjusts larger and smaller around the band. Depending upon your size, this bra can adjust six or more inches. So when you are pregnant and your belly is growing, you simply loosen the band. After birth and your whole body is shrinking, you tighten the band.
A new mom also has to wear a bra at all times due to leaking nipples as the breasts are preparing for breastfeeding. This means that women have to find a bra comfortable enough to sleep in. The Comfort Bra is supremely comfortable with silky soft materials and it is wireless. One less thing for new moms to worry about!
Breastfeeding is a wonderful experience for both a mom and new baby, so undergarments should add to that. The Comfort Bra has an open hook so you can pull the cups down for nursing. It is also incredible supportive to lift breasts that have begun to sag. The happiness of a new baby should not be overshadowed by the adjustment to your new body. TOMgirl Apparel eases this transition.
You can find the Comfort Bra at TOMgirl Apparel's Etsy shop, and also see more pictures on Facebook.