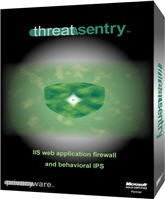 New Albany, OH (PRWEB) August 30, 2012
Privacyware, a leading provider of web application firewall, pc security and security data analytics software, today announced that it has been recognized as a finalist in the Annual 2012 Golden Bridge Awards for ThreatSentry, the leading software–based Web Application Firewall and Host IPS for Microsoft Internet Information Services (IIS).
The coveted annual Golden Bridge Awards program with active participation from a broad spectrum of industry voices, encompasses the world's best in organizational performance, products and services, innovations, executives and management teams, women in business and the professions, case studies and successful deployments, public relations and marketing campaigns, product management, websites, blogs, white-papers, videos, advertisements, creativity, partner programs, and customer satisfaction programs from every major industry in the world. Organizations from all over the world are eligible to submit nominations including public and private, for-profit and non-profit, largest to smallest and new start-ups. Winners will be honored in San Francisco on Tuesday, October 2, 2012 during the 4th annual awards dinner and presentations.
ThreatSentry protects Microsoft IIS Web servers, Windows operating systems, backend databases and popular Web application platforms including ASP.NET, PHP, JavaScript and more from threats such as Structured Query Language (SQL) Injection, DDoS, Cross Site Request Forgery (CSRF/XSRF), Cross-Site Scripting (XSS) and other types of attacks and helps system administrators comply with regulatory demands such as Section 6.6 of the Payment Card Industry Data Security Standard (PCI DSS). ThreatSentry supports Windows Server 2008/R2, 2003 and 2000 and IIS 7.x (native IIS7 module), 6 (ISAPI Extension) and 5 (ISAPI Filter) on 32 and 64 bit systems.
"We are honored to receive this recognition and gratified by the swell in global demand for ThreatSentry we've experienced this year," said Greg Salvato, CEO, Privacyware. "Our efforts are centered on the development of innovative enhancements that deliver targeted value-add to system administrators and security specialists. Accolades from respected industry programs like Golden Bridge are intensely motivational, second only to that which we derive through direct solutions delivery to our clientele."
ThreatSentry delivers proactive defense for IIS and prevents attacks from exploiting web application vulnerabilities through a complementary set of integrated components.

State-of-the-art Web Application Firewall: Provides configurable rules-based control over HTTP/HTTPS request methods (OPTIONS, GET, POST, HEAD), URL Paths, URL Query String length, and HTTP Request Headers, rule-specific URL/s exclusion capabilities, URI Encoding support, Regular Expression support for parameter rules/filtering, etc.
Fully integrated Firewall: Proprietary NDIS driver delivers flexible network IP blocking (featuring white list, black list and duration control) at TCP/IP and UDP layers for all ports.
Behavior-based Intrusion Prevention: Adaptive, behavior-based engine (with sensitivity control) analyzes Web traffic patterns to detect new threats and behavioral anomalies and deviations.
Anti-DoS/DDoS: Configurable request frequency monitor blocks successive requests to individual or all site pages to reduce the risk of DoS and DDoS attacks.
Pricing and Availability
ThreatSentry is available for purchase or 30-day trial download via the Privacyware web site: http://www.privacyware.com or through business partners worldwide. Starting at just $649 per server, ThreatSentry is priced to maximize constrained IT budgets and supports Microsoft Windows Server 2008/R2, 2003, 2000 and Internet Information Services (IIS) 7/7.x, 6, and 5. For more information, including special plans for data centers and Web hosting providers, please contact Privacyware directly or visit us online.
About the Golden Bridge Awards
Globee Awards from Silicon Valley are conferred in four programs: The Info Security's Global Excellence Awards, The IT Industry's Hot Companies and Best Products Awards, The Golden Bridge Business and Innovation Awards, and Consumer Products Guide's World Choice Awards. These premier awards honor organizations of all types and sizes from all over the world including people behind them, the products, performance, innovations, public relations and marketing. Learn more about The Golden Bridge Awards at http://www.goldenbridgeawards.com
About Privacyware
Privacyware (http://www.privacyware.com) is an innovative provider of award-winning web application firewall, pc security and security data analytics software. Privacyware products leverage conventional and advanced analytics technologies to help systems administrators, IT security and compliance personnel more effectively identify, understand and prevent malicious, unauthorized and/or deviant computing system activity. Privacyware is a member of the Microsoft Partner Network with Silver OEM and Independent Software Vendor (ISV) competencies.
Privacyware and ThreatSentry are registered trademark of PWI, Inc. All other registered or unregistered trademarks are the sole property of their respective owners. ©2012 PWI, Inc. All rights reserved.