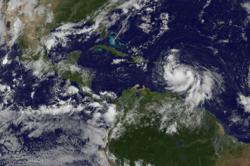 Because of the generosity of our supporters who donate funds before disaster strikes, we are able to procure the aid, preposition it, and then deploy it as soon as it's needed.
Sarasota, FL (PRWEB) August 24, 2012
Aid from ShelterBox, an international humanitarian relief organization, is expected to arrive today in Haiti's capital, Port-au-Prince as Tropical Storm Isaac approaches the Caribbean island.
Tropical Storm Isaac is traveling fast across the Caribbean, having hurtled over the smaller islands of Martinique, Guadeloupe and Dominica, forcing some flights to be cancelled and some businesses to close, but not causing any damage.
With it now strengthening and heading toward the island of Hispaniola, shared by Haiti and the Dominican Republic, the Miami-based National Hurricane Center (NHC) predicts it will become a hurricane and advises that preparations to protect life and property should be rushed to completion.
ShelterBox, which responds following disasters such as earthquake, volcano, flood, hurricane, cyclone, tsunami or conflict, is sending to Haiti, 448 boxes of aid in preparation.
The ShelterBoxes, which were prepositioned in Houston, TX, contain a disaster relief tent, stove, blankets, water filtration system, and other tools necessary to help families live independently and with dignity in the months following disaster.
HURRICANE WARNING
A hurricane warning has been issued for Haiti as Isaac draws closer, bringing with it an estimated 51 centimeters (20 inches) of rain and strong winds.
With Haiti still recovering from the devastating 7.0-magnitude earthquake in 2010, Isaac is a real threat, especially as an estimated 400,000 Haitians are still living in makeshift shelters and tents.
The NHC warms these rains could cause life-threatening flash floods and mudslides.
Tom Lay is one of many ShelterBox Response Team members who helped deliver aid to the 2010 quake survivors and is one of ShelterBox's operations coordinators monitoring the situation.
"The boxes have been sent as contingency stocks for the Haitian people for when situations like this happen," said Lay.
"This is why preparing aid in advance of the next inevitable disasters is so important," said Emily Sperling, ShelterBox USA president. "Because of the generosity of our supporters who donate funds before disaster strikes, we are able to procure the aid, preposition it, and then deploy it as soon as it's needed."
COORDINATING WITH PARTNERS
"We are currently coordinating our response with the International Organization for Migration (IOM), one of our partners who has a strong presence in Haiti and with whom we have continued to work since the earthquake hit.
"If the hurricane strikes as predicted, we have response teams lined up to be sent in immediately to assess the need if required," added Lay.
Haiti is one of the world's poorest countries and its geographic location makes it one of the Caribbean's most disaster-prone countries. With its high poverty level, the island has always battled to cope with the aftermath of natural disasters.
Landslides and flash flooding are common in this half of Hispaniola due to deforestation. The situation became more serious after the earthquake over two years ago.
LOST LIVES
Hundreds of thousands of people lost their lives following the quake that struck the capital on January 12, 2010 and an estimated 1.5 million were housed in impromptu settlements.
Over 28,000 ShelterBoxes were sent in response to the disaster, the greatest number ShelterBox has ever sent to a single disaster.
If Isaac does not hit Haiti as hard as predicted, the ShelterBoxes will be prepositioned there and used for future disasters in the region.
ShelterBox is currently responding in Lebanon due to the Syrian refugee crisis, Mali due to ongoing conflict and the Philippines due to massive flooding.
Since 2000, ShelterBox has provided shelter, warmth and dignity following more than 180 disasters in over 80 countries. ShelterBox's American affiliate, ShelterBox USA is headquartered in Sarasota, Florida. Individual tax-deductible donations to ShelterBox USA can be made at http://www.shelterboxusa.org, (941) 907-6036 or via text message by sending SHELTER to 20222 for a one-time $10 donation.