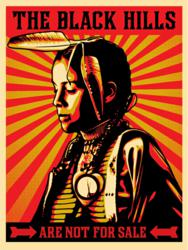 (PRWEB) August 24, 2012
Last November acclaimed street artist Shepard Fairey, National Geographic Photographer Aaron Huey, and graphic artist Ernesto Yerena wheat-pasted a 20 x 60 ft. work of art on the Barracuda wall on Melrose Ave. in Los Angeles. The art featured a photograph, taken by Huey and adapted by Fairey and Yerena, of a young Lakota girl with a feather in her hair. Its caption read "The Black Hills Are Not For Sale." The words refer to the U.S.'s current policy of violating the Treaty of Fort Laramie (1851), which—until it was unilaterally overturned by Congress in 1877—acknowledged Lakota ownership of the Black Hills. The United States Court of Claims has offered the Lakota $105 million (plus interest) since 1979 as compensation for the illegal seizure by Congress, but the Lakota have refused it and maintain that the Black Hills belong to them.
The art displayed in Los Angeles last fall will be featured as an act of protest by Madonna Thunder Hawk in South Dakota this weekend on one side of an enormous truck. Another banner by Fairey, Huey, and Yerena will appear on the other side of the truck, with the caption "Honor The Treaties."
Thunder Hawk has for five years worked with the Lakota People's Law Project (LPLP) of Rapid City and Santa Cruz, CA. Her work has consisted of organizing Lakota, Dakota, and Nakota grandmothers in South Dakota to win the return of Native American children to their families and tribes from white-run foster care, as mandated by the 1978 Indian Child Welfare Act. Thunder Hawk and the Lakota People's Law Project are fully supportive of all groups working to prevent Pe' Sla, a sacred Lakota pilgrimage site, from being sold to the highest non-Native bidder.
Shepard Fairey is the artist who created the red and blue "Hope" poster for Obama's 2008 presidential campaign, and Aaron Huey is the photographer who co-created this month's National Geographic cover story about the the Pine Ridge Reservation in South Dakota.
Madonna Thunder Hawk invites interviews. She and her support staff can be reached this weekend at Madonna(at)LakotaLaw(dot)org and 831-406-0349. A schedule of Thunder Hawk's activities and tour schedule is forthcoming—please see Facebook.com/LakotaPeoplesLawProject for updates.