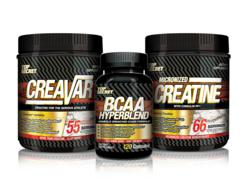 We put an emphasis on designing effective supplements that are also unique
Miramar, Florida (PRWEB) August 27, 2012
Top Secret Nutrition announces the release of three effective and unique new sports nutrition products: Creavar™, Micronized Creatine™ and BCAA Hyperblend™, further cementing it's presence as a leader in sports nutrition supplementation. With these products Top Secret Nutrition has entered a new and much faster growth stage expanding domestically and internationally. Only in its second year, Tom Secret Nutrition today has 37 excellent sports nutrition, weight control and general health supplements in its product line.
About the new three products:
Creavar™ - This supplement represents an evolution in the use of creatine to increase strength, endurance, speed to recovery and lean muscle tissue. The Creavar™ formula starts with a blend of three high-quality creatines and surrounds them with several muscle strength, support, and growth boosters. The three types of creatine are Creapure®(known for its high quality and purity), Creatine Magnapower® (which promotes the synergies of creatine and magnesium), and Creatine AAB 2:1 (designed to increase muscle protein synthesis and decrease muscle breakdown). The surrounding "boosters" include: Red Beet Extract, Cinnulin PF™, Betaine HCL and Astravar 2.0
Micronized Creatine™ - This supplement blends 200 mesh creatine monohydrate with Cinnulin PF™ to improve effectiveness. Cinnulin PF™ has been observed to mimic the effects of insulin thereby up-regulating glucose uptake and insulin signaling. The benefits of creatine when combined with Cinnulin PF™ and exercise include increases in strength and muscle mass.
BCAA Hyperblend™ - This supplement combines the power of branched-chained amino acids with ingredients designed to promote anabolic activity and enhance absorption. BCAA Hyperblend™ represents the future of BCAA supplementation. The BCAA blend includes a 3:1:1 ratio of leucine to isoleucine and valine. Ursolic acid and homobrassinolide were added to this blend to enhance its anabolic and muscle protein synthesis capabilities. The formula includes Astravar ™ and BioPerine® to enhance the absorption of this powerful combination of ingredients.
"As you can see, each of these new supplements represents a carefully crafted and unique category entry. We avoid releasing 'me-too' supplements", stated Tom Richardson, Top Secret Nutrition's CEO.
These products are being launched through some of the leading online and brick-and-mortar stores. Additional information about these supplements and other Top Secret Nutrition products is available at http://www.topsecretnutrition.com.
About Top Secret Nutrition:
Top Secret Nutrition is a developer and marketer of high-quality nutritional supplements with the purpose of "Fueling Active Life Styles 24/7" and is considered a leader in sports nutrition, general heath and weight management supplementation. The company currently has 37 products spanning across the three supplementation segments. These products are widely available in the United States and increasingly available in international markets.
Top Secret Nutrition is based in Miramar, Florida. All of its products are manufactured in the United States using Good Manufacturer Practices (GMP) certified labs. For more information or to schedule an interview, please contact Tom Richardson at (954) 496-9600 or tom(at)topsecretnutrition(dot)com.