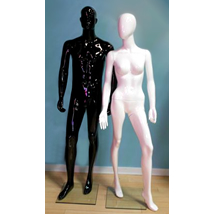 "We are really excited about the new abstract mannequins. These glossy mannequins really highlight the clothes and can add a classy, high-tech look to a store says Eric Weinstein, Owner of Specialty Store Servic
Des Plaines, IL (PRWEB) August 25, 2012
Specialty Store Services, a retail store supply company based in Chicago, believes in giving the customer exactly what they want. Recently there have been many calls to update the mannequin's selection to give retailers a wider variety of mannequins to choose from. As the retailers move forward into back to school and the start of fall season, Specialty Store Services can help highlight those new seasonal items with the new high gloss mannequins.
As a retailer, Specialty Store Services knows the importance of changing up displays and making a store look fresh. As the new products of fall and winter arrive retailers want to be able to display products in such a way to get the customers interested and excited about spending money.
"We are really excited about the new abstract mannequins. These glossy mannequins really highlight the clothes and can add a classy, high-tech look to a store. We appreciate the product requests we get from our customers and are exceited when a customers suggestion becomes a real product. We really love hearing from our customers," says Eric Weinstein, Owner of Specialty Store Services.
Specialty Store Services' expansion of mannequins include:
· Glossy Abstract Mannequins: Great for displaying the season's latest collection of shirts and pants
· Half Body Female and Male Mannequins: Exceptional way to display the season's sweaters and shirts.
· Plastic Head Display: A fantastic way to display Scarves and Hats for the cold weather ahead.
· Full Body Forms: An excellent way of displaying the latest in outerwear.
Specialty Store Services adds these mannequins to an already extensive line of fiberglass and plastic mannequins and clothing forms. All mannequins are made with a durable construction, providing retailers with years of affordable display units. Though Fall and Winter may come and go, Specialty Store Services' mannequins will display up-to-date trends in fashion season after season, year after year.
Specialty Store Services has mannequins for every aspect of the store, from accessories to outerwear. Visit our website for more information and the full line of mannequins. http://www.specialtystoreservices.com