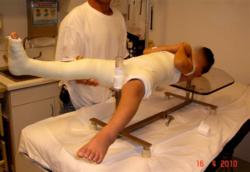 The new
Pediatric Spica Table
is a vital piece of
equipment.
Monterey, CA. USA (PRWEB) August 26, 2012
Industrial Engineering Machine LLC.
I.E.M. LLC is pleased to announce that its new 2013 design of the Pediatric Spica Table is now available. After further research into the treatment of hip and femur injuries, I.E.M. LLC has produced a updated design of their casting table that eases in the application of the spica cast for children.
Larry Squire, a 20-year military medical veteran and now a 20-plus-year civilian orthopedic technician, says this newest design offers significant improvements. "The new spica table will be a vital piece of equipment to have on hand for pediatric patients who need it," he says.
Squire says the table's ability to rotate makes it easy to maneuver the patient, which he says allows for more optimum positioning throughout the casting process. In addition, the new scratch-resistant, transparent polycarbonate "radiolucent" material used for the table top and spine supports is beneficial for x-raying through, ensuring doctors maintain proper bone alignment during the casting procedure. Previous table designs, which have not changed much in the last 20 years, were constructed of wood and were unable to be x-rayed through, forcing the orthopedic staff to finish applying the spica cast before they could check to make sure bones were still properly aligned.
With various sizes of spinal supports and an easily removable partial post, I.E.M. LLC's designed Pediatric Spica Table makes it easier for doctors and staff to properly treat a wider range of pediatric patients.
The different size options available cater to the diverse methods or techniques of orthopedic practitioners worldwide, as the table now has worldwide distribution. Some doctors have reported they prefer the smaller supports while other doctors prefer the longer, larger supports. The 2013 package includes all supports and partial posts.
I.E.M. LLC understands that the comfort and proper fitting of a spica cast is essential. Squire and the developers at I.E.M. LLC believe the design enhancements in the newest package aid in the application of the cast for a better fit. The newest table also features an efficient storage capability with the addition of a cover with pockets to store the supports and partial posts.
The enhancements offered by the 2013 version of the Pediatric Spica Table represent a step forward for improved pediatric care in the 21st century.
The frame of the Pediatric Spica Table is now constructed from polished Stainless Steel, including the adjustment handles and fasteners. The polished Stainless Steel allows for a surface that is easily cleaned.
Pediatric Spica Table is a division of Industrial Engineering Machine, LLC, a research and development manufacturing company located in Monterey, California, USA. We specialize in the development of unique, customized products for professionals seeking design applications not readily available to the general marketplace.
For more information, see Industrial Engineering Machine, LLC's updated Web site at: http://www.pediatricspicatable.com
or contact: John Teaby
PATENT PENDING
CE – European Directives Approved
Contact:
John Teaby
Owner
Email: spicatable(at)gmail(dot)com
Telephone: 831 402-8801
Fax: 831 373-5904