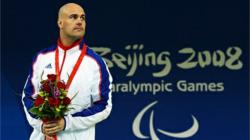 At the end of the day I'm a Brit and I want to compete for Britain but you never know what life will throw at you
(PRWEB) August 24, 2012
British swimming great David Roberts says he is giving "serious consideration" to competing at the 2016 Paralympics in Rio de Janeiro after his London heartbreak.
The 32-year-old has won 11 gold medals across three Paralympic Games, equalling the tally of Dame Tanni Grey-Thompson.
However, Roberts missed out on selection for London and received a further blow when he failed to reverse the decision following an appeal.
"I want to retire on my terms so Rio is something I will certainly give some serious consideration to," the Welshman told C4Paralympics.
"If Chris Hoy can win Olympic gold at 36, why can't I?"
Roberts' build-up to the Paralympics was blighted by injury and illness, and a bout of pneumonia shortly before the trials left him short of preparation.
But after re-examining his case, British Swimming chief executive David Sparkes maintained that Roberts had "not met the standards set out for selection to the Paralympic Games."
In the aftermath, Roberts hinted that he could even switch allegiance to Sweden - where he will move after marrying his Swedish fiancee in December - and he says that is still a possibility, although it appears remote.
"Nothing is ever set in stone," he said.
"It would be the ultimate change in my life. At the end of the day I'm a Brit and I want to compete for Britain but you never know what life will throw at you."