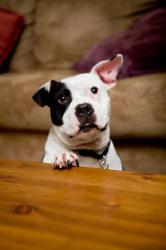 Edison, NJ (PRWEB) August 27, 2012
The dog days of summer brought a hot competition on Facebook, in the form of the first-ever GUND "Top Dog" photo contest, where thousands vied to become the next GUND plush pooch. Today, GUND, known for its top-quality, soft and huggable plush designs and gift products, announces the Grand Prize winner: Jonny Justice, a Staffordshire bull terrier with a touching past and a promising future. GUND will create a plush version of Jonny Justice, available for sale at specialty gift and toy stores in 2013.
Jonny Justice, who was rescued from Michael Vick's illegal dog-fighting ring, received more than 12,000 votes. The contest, which launched in July 2012 and ended in mid-August, received 1,305 entries and more than 50,000 votes. The concept for a canine model was inspired by GUND's version of Boo, The World's Cutest Dog™ and real Pomeranian with millions of fans.
Jonny Justice, who since his rescue has been trained to work with children, received the most votes of all dogs whose photos were entered in the contest's four categories:

Most Beautiful Dog
Face Only a Mother Could Love
"Doganista"/Best Dressed Dog
Dog that Most Resembles its Owner
Jonny Justice was chosen as the Grand Prize winner, after also winning for Most Beautiful Dog. Other category winners whose owners will receive recognition and prizes include: Rose, a black pug pup who received nearly 2,400 votes in the "Best Dressed" category; Yogi Bear, a silver and black pug who took the top of the "Face Only a Mother Could Love" field and Reeses, a dachshund, who won "Dog that Most Resembles its Owner" with her owner and best friend, young Ariana.
"The enthusiasm for the 'Top Dog' contest was truly touching," said Bruce Raiffe, GUND's president. "We saw beautiful photos that told emotional stories and funny images that made us laugh. It's obvious that canine companions mean so much… to so many different people. We couldn't be happier to honor Jonny Justice with his own plush and piece of history in the GUND family. And we congratulate all the category winners."
Simultaneous with the Top Dog Contest on Facebook, GUND ran the Most Pinteresting Dog Contest on Pinterest. Pinterest pinners were asked to post their entry on their own Pinterest boards, "tag" it @GUNDMostPinterestingDog and submit the link to GUND. Finnegan, the Australian Shepherd owned by a popular blogger, got the most likes on Pinterest and will receive a GUND prize package.
The contest ran from July 16 - August 15, 2012. For more information about GUND, please visit http://www.gund.com.
About GUND®:
GUND, a division of Enesco, LLC, is known worldwide for its top quality, soft and huggable plush designs and gift products. Award-winning GUND products appeal to all ages, from infants up, and are perfect for both play and collecting. The 114-year old company is based in Edison, New Jersey, and distributes throughout the United States and Canada as well as in Europe, Japan, Australia and South America. GUND products may be found in gift, specialty, toy, book, museum and department stores and many other retail outlets. To find your nearest retailer, visit http://www.gund.com.
About Enesco, LLC
Enesco, LLC, is a global leader in the giftware and home and garden décor industries. Serving more than 44,000 customers worldwide, Enesco distributes products to a wide variety of specialty card and gift retailers, home décor boutiques, mass-market chains and direct mail retailers. With subsidiaries in the United Kingdom, France, Canada and Hong Kong, Enesco serves markets operating in Europe, the Americas, Australia and Asia. The company's product lines include some of the world's most recognized brands including Heartwood Creek® by Jim Shore, Foundations®, Our Name is Mud®, Gund®, Boyds®, Department 56® Villages, Country Artists®, Walt Disney Classics Collection®, Disney Traditions™, Border Fine Arts™, Cherished Teddies®, The Trail of Painted Ponies®, and Lilliput Lane®, among others. Further information is available on the company's Web site at http://www.enesco.com.