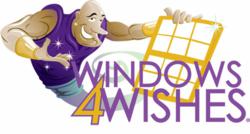 Cincinnati, OH (PRWEB) August 25, 2012
Window Genie is the Cincinnati-based franchisor of home services known to "Clean Windows and a Whole Lot More!" Doing a whole lot more includes giving back to the community through their charitable program, Windows 4 Wishes. This October, Window Genie is proud to sponsor National Breast Cancer Awareness Month. Across the nation, the Window Genie corporate team, franchise partners and technicians will be seen sporting a new pink uniform. The pink ribbon representing the fight against breast cancer has been integrated into the Window Genie logo to show support for this cause. Breast Cancer Awareness has personal meaning to many members of the Window Genie team, so the company as a whole has chosen to represent the cause in a unified way through the new uniforms.
To participate in the local community's fight against breast cancer, Window Genie's corporate team will attend the wiffle ball tournament hosted by the Pink Ribbon Girls on Saturday, September 15 at Kuliga Park on the west side of Cincinnati.
The Pink Ribbon Girls is an organization set up by Tracie Metzger, a young, local breast cancer survivor. Pink Ribbon Girls' mission is to provide personalized support to young women throughout all phases of the breast cancer journey. They accomplish this through education, outreach, awareness, and one-on-one support to women and their families. The Pink Ribbon Girls offer support and services to their members through the Simply Fight and No Age No Stage programs which offer free services for those in treatment to help with life needs such as housekeeping, babysitting, meals and transportation. Survivors can also connect via their secure national database.
Visit the Pink Ribbon Girls' website for more information and to register a team or volunteer. Details of the event as listed on the website are:
Meet us at Kuliga Park at 6717 Bridgetown Road in Cincinnati from 4 - 11 p.m. for some Family Wiffle ball. Registration is $50 per family. During your downtime from the waffle ball tournament, enjoy the musical stylings of the Sullivan Janszen Band, basket raffles, split the pot, silent auction, food booths and a Home Run Derby. A big screen TV will also be on site so you don't miss any of your favorite college football games.
Window Genie Cincinnati franchise owners Jack Winterhalter and Mark Junkerman will be donating gift baskets for the raffle containing various Window Genie products and "Genie Bucks" that can be redeemed for a discount on home services.
For more information about Pink Ribbon Girls, please contact Tracie Metzger at tracie(at)pinkribbongirls(dot)org or call 513-207-2421.