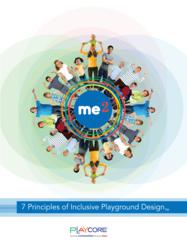 Chattanooga TN (PRWEB) August 27, 2012
PlayCore, a leading designer, manufacturer, and marketer of a broad range of play and recreation products, recently held an Inclusive Play Symposium in Pleasanton, CA drawing nearly 100 attendees across the Northern California region. The session highlighted sessions surrounding best practices in playground design by leading experts through their leading continuing education and professional develop program.
Attended by park & recreation professionals, educators, non-profit organizations, and landscape architects, the symposium was hosted by O'Dell Engineering, CPRS District 3, PlayCore, GameTime, and MRC. Tom Norquist, Senior Vice President of Product Development, Design and Marketing, GameTime addressed the impact of the 2010 ADA Guidelines for Accessible Design for parks and playgrounds, and provided tools to help evaluate the level of compliance of community play areas to plan for future needs. The afternoon session featured Keynote Speaker Keith Christensen, PH. D., and Faculty Fellow at Utah State University's Center for Persons with Disabilities and Jennie Sumrell, Director of Programs and Partnerships at PlayCore. The session, Building Inclusive Communities Through Play, featured the Me2 Program and the 7 Principles of Inclusive Playground Design™ developed in partnership with Utah State University and PlayCore to address how to move beyond minimal accessibility to provide an universally designed play environments that address the developmental needs of the whole child by intentionally providing opportunities for physical, cognitive, communicative, social/emotional, and sensory development.
The session attendees received copies of PlayCore's unique inclusive programs, Me2 and 2PlayTogether, to assist attendees in learning how to create outdoor play environments that implement best practice design principles, while taking inclusive play to the next level by providing outdoor programming to ensure meaningful play for children of all abilities. To learn more about these unique resources and creating meaningful play experiences for children of all abilities, visit http://www.inclusiveplaygrounds.org
For information on how to bring PlayCore's leading Educational Symposiums to your professional network, or to review a list of available session topics, go to http://www.playcore.com/programs/outreach-training.aspx
About PlayCore
PlayCore helps build stronger communities around the world by advancing play through research, education, and partnerships. The company infuses this learning into its complete family of brands. PlayCore combines best in class planning and education programs with the most comprehensive array of recreation products available to create play solutions that match the unique needs of the each community they serve. Learn more at http://www.playcore.com