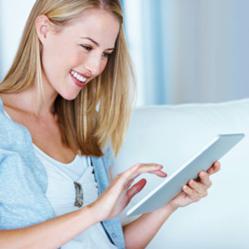 Most psychic readings are about relationships, so psychics are uniquely qualified to weigh in on how various dating modalities work.
Langhorne, PA (PRWEB) August 26, 2012
People aren't shy about online dating anymore. In fact, according to an ABC report, online dating is now second only to meeting through friends as a way to find a romantic partner.
But just because it's popular doesn't mean online dating can yield satisfying, long-lasting relationships. Or does it?
A survey of 55 professionals from the popular psychic service Hollywood Psychics reveals that love psychics are overwhelmingly positive about online dating as an option for finding true love, with a few caveats.
Most psychic readings are about relationships, or as one psychic put it: "90% of my clients want to know the following: 'Is he or she coming back? Is he or she cheating? When is he or she making a commitment (engagement, marriage, moving-in)?'" Which means psychics have a unique perspective – both intimate and broad -- on how various dating modalities work.
Of the psychics surveyed, 60% said they believe online dating sites are a good way for people to find meaningful relationships, with only 20% disagreeing (20% did not have an opinion). Sixty percent also said that in their experience with clients, couples who met in person and couples who met online had similar chances of having a solid, long-lasting relationship.
What about using online profiles to predict relationship outcomes? 76% of the psychics said that most of the time, they could tell something about a relationship based on two people's profile. Yet many respondents agreed that online dating profiles were superficial and sometimes dishonest. As one blunt psychic put it, "People lie like rugs."
Overall, despite their generally positive attitude toward online dating, the psychics emphasized the need for caution. "It's easy to be someone you're not online," warned one. Others reiterated the importance of honesty, good judgment and trusting your instincts.
Ultimately, the psychics felt that online dating was just as effective as any other way to meet a mate. As one summed it up: "Anyone can meet liars and cheats in person and online. It's just easier to hide things online, so good judgment is needed, as always."
*****
About Hollywood Psychics:
Hollywood Psychics is an established provider of psychic readings by phone and online chat, appealing to a young professional demographic. Hollywood Psychics experts specialize in astrology, horoscopes, numerology, tarot cards, clairvoyant readings, and many other psychic disciplines. Hollywood Psychics believes in its community of authentic psychics and stands behind the authentic psychic readings they deliver to clients. Visit them online at http://www.hollywoodpsychics.com.
For more information, contact:
Maryanne Fiedler, Marketing Director
maryanne (at) hollywoodpsychics (dot) com
215-953-8568