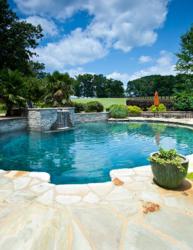 The new website highlights Selective Designs' award-winning custom pools, spas, and landscape architecture.
Atlanta, GA (PRWEB) August 27, 2012
Atlanta landscape company, Selective Designs (SD), launched a new website that showcases their market-leading luxury pool design and elite landscape services. The new website highlights SD's award-winning custom pools, spas, and landscape architecture. The site enables this Atlanta landscape company to show clients how they can completely transform a backyard into a luxurious oasis and outdoor living space with the use of water features and specialty hardscapes.
Since 1996 Selective Designs has been providing luxury pool and landscapes for discerning clients in Southeast Georgia. They create backyard "masterpieces" that combine pools, spas, patios and outdoor fireplaces with beautiful plant life and greenery. Selective Designs has received multiple awards for the pool and landscape designs featured on the website. The awards include PebbleTechnology's World's Greatest Pool Design and Landscape Design for spring & winter 2012 and the Global Aquatekture Visionary Awards (GAVA) for their Atlanta Infinity Pool Design. The Atlanta Journal Constitution and LifeStyle magazine have both featured articles focused on Selective Design's work. They have also been featured on the HGTV show "Groundbreakers". Selective Designs is a high-profile member of many professional groups in their industry, such as the Metro Atlanta Landscape and Turf Association and the Association of Pool and Spa Professionals.
President and Founder of Selective Designs, Shane LeBlanc, has over 18 years of experience in the field of landscape design. His focus is on keeping Selective Designs the creative leader in their industry and is proactive in continuing education for members of his company to achieve this goal. Selective Designs will be attending classes at the International Pool Spa Patio Expo in November instructed by the internationally recognized school of outdoor design, Genesis 3. The continuous training ensures that Selective Designs can provide cutting edge custom pool and landscape designs to Atlanta homeowners. With the launch of the new website, Selective Designs is able to show clients how they can transform even the smallest outdoor space into a beautiful and relaxing backyard get-away.
Shane LeBlanc commented on the new website, "We are so excited about this new site because it makes it so much easier for new and potential clients to see what is possible when it comes to outdoor living, even in the smallest backyards and outdoor spaces. We have some before and after photos on some of our projects on the website that you just wouldn't believe, the clients are all astonished with their finished space. We work closely with our clients to design the custom pools and landscapes of their dreams. In honor of the new website launch, and the start of the fall season, we are offering a special of 10% off landscaping and outdoor living projects for all Active Duty Military and Delta Airlines employees through October 31st 2012."
Selective Designs creates custom pool and landscape designs based on the client's concepts and desires. They are located in Peachtree City GA and serve all of Atlanta and the Southeastern United States. Selective Designs along with its sister companies, Georgia Sprinklers and Georgia Aquatics, provides custom pools, spas, hardscapes, landscapes, irrigation, and outdoor lighting all from one location. To find out more details about the fall special or to schedule a consultation, Selective Designs can be reached by phone (770) 631-1550 or by email. Selective Designs' website and web marketing services are provided by Atlanta SEO Company, Interactive Search Marketing.