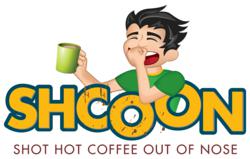 'Each gift is certain to delight its recipient."
Boston, MA (PRWEB) August 26, 2012
The popular gift curation website Shot Hot Coffee Out of Nose, has announced its much anticipated list of the Top 10 Funniest Gifts of 2012.
Topping the list this year is the absolutely hilaious book 'Awkward Family Photos'. The website's editors claim that this is the funniest compilation book to be released in the past decade and guarantee its giftability with top ranking honors for 2012.
Among some of the other items on the list are a one pound bag of the world's strongest coffee, a t-shirt that celebrates the famous Red Solo Cup, an action poster of Richard Nixon bowling, a Unicorn head mask and an air guitar kit that lets you jam with infrared laser guitar strings.
This year's winners were pulled from the hundreds of funny gifts featured on the website Shot Hot Coffee Out of Nose and voted on by a panel of gifting experts. To qualify for the honor each nominated gift needed to have several special criteria including uniqueness, humor and needed to inspire a certain degree of awe in the recipient.
"This year's winners are all extremely strong. Each of these products carry's a high giftability score and are certain to delight their recipient" commented Shcoon.com editor Chet Dickfield.
The Top Ten Funniest Gifts for 2012:
1. Awkward Family Photos Book
2. World's Strongest Coffee 1 lb. bag
3. 'Red Solo Cup, I Fill You Up' T-Shirt
4. Richard Nixon Bowling Action Poster circa 1959
5. The Chillow - pillow chiller insert
6. Air Guitar with infrared laser guitar strings
7. Car Headlight Eye Lashes - stickers
8. Beer Can Pop Simulator - The feel and sound of opening a can of beer
9. Bow-Lingual - Dog Bark Translator Collar - Understand your dog's barks
10. Remee Dreaming Mask - let's you control your dreams
Shot Hot Coffee Out of Nose is a website devoted to showcasing the funniest and coolest gifts and gadgets available on the Internet. Most of the products on the site are unique and often hard to find. The site prides itself on showcasing the funniest products you've never heard of.
You can see all Top 10 winners for 2012 at http://www.shcoon.com.