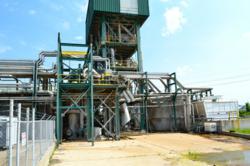 "Our sellers recognize the value of using an accelerated method of marketing – in other words, an auction – to sell their properties"
Alexandria, La & Kansas City, Mo. (PRWEB) August 25, 2012
Interested buyers will have the opportunity to purchase an 172,760 square foot industrial paper mill complex situated on 44.22+/- acres in Alexandria, La., at auction prices. United Country – Bonnette Auctions Louisiana Outdoor Properties will conduction a live auction event on Thursday, September 6.
This auction will take place on-site at 1200 Dallas Avenue at 10 a.m. Registration for the event will begin at 9 a.m., and the property will be made available for inspection by appointment. Because this property is selling without reserve, it will be sold to the highest bidder regardless of price.
"Our sellers recognize the value of using an accelerated method of marketing – in other words, an auction – to sell their properties," said Barbara Bonnette, auctioneer and owner of United Country – Bonnette Auctions Louisiana Outdoor Properties. "What does this mean for buyers? It means they have the opportunity to purchase an outstanding Louisiana industrial property at an affordable price. Today's market conditions and the auction format allow sellers and buyers to come to a meeting of the minds quickly with a competitively achieved fair market value. In times like these, an auction is the best way to establish what real market value is."
This operational industrial complex with paper mill is being sold turnkey. The paper mill is roughly 172,760 square feet and rests on approximately 44.22 acres adjacent to Interstate 49, Broadway exit and Houston Street, in Alexandria, La. The plant was built in 2007 and ceased operation in 2010. Before closing, the plant was being used to produce tar paper out of recycled paper. The owners state that the plant can be made operational within twelve hours. It has been kept fully serviced and winterized since its shutdown in October of 2010.
The property site is zoned I-1 or light industrial. The complex houses a main building, an open shed, a machine room, an office building, several storage buildings, a water tower, a guard shack, roughly 3,000 linear feet of fencing, about 200,000 square feet of concrete drives, and inground truck scales.The owner states that the machinery and equipment housed inside the main plant manufacturing building are "state-of the-art, and very well maintained."
The business currently enjoys a $380,000 economic incentive tax break from Rapides parish and has had $40 million invested into it in the last 10 years.
Property details, photos and terms can be found at http://www.RecycleServicesInc.com . United Country – Bonnette Auctions Louisiana Outdoor Properties can be contacted at 318-443-6614 for additional information.
About United Country
United Country Real Estate is the largest fully integrated network of conventional and auction real estate professionals in the United States and Central America. The company has been an innovator in real estate marketing since 1925. United Country supports nearly 550 offices across the U.S., Costa Rica, Panama and resort areas of Mexico, with a unique, comprehensive marketing program that includes one of the largest portfolios of property marketing websites (more than 3,000 separate sites and traffic of approximately 3 million visitors per month), multiple United Country real estate catalogs with national distribution , an extensive buyer database and national advertising of local properties that reaches more than 90 million homes per week. United Country has recently been recognized by Franchise Business Review, AllBusiness.com, The Land Report, Entrepreneur and The Wall Street Journal as one of the top U.S. real estate companies.