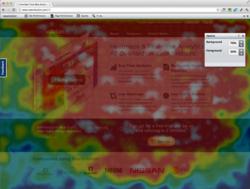 I am honored and thrilled to be working with such a talented and intelligent team,
Los Angeles, CA (PRWEB) August 24, 2012
SeeVolution, real-time website analytics company, recently announced the addition of Capsule co-founders, Cyrus Farudi and Omri Cohen, to their Advisory Board.
Showing impressive track records in business and website innovation, creation and design, Farudi and Cohen developed a mobile photo sharing application for weddings. This user-friendly service allows any picture taken by guests to be automatically uploaded into one online wedding album-or 'capsule'-that is instantly available to the wedding party and its guests.
With the continued growth and success SeeVolution is currently experiencing, on-boarding two successful advisors was just another step to the top of optimization pyramid for the young company.
As Co-Founder and CEO of Capsule, Cyrus Farudi brings a plethora of startup experience to the SeeVolution team. Entrepreneurial knowledge aplenty, Farudi also co-founded both Flipswap, Inc. and EZWay Auctions and is also currently serving on the Advisory Board of Cuttle Media, a medium for brands and college students to easily communicate.
"As an executive at several companies, I think that SeeVolution addresses a legitimate problem and I am excited to help them build an incredible product," said Farudi.
As Flipswap's CFO and President, he was responsible for managing the mobile resale company's rapid expanse boasting over $11 million in annual revenue and 100+ employees in just four years. Spearheading EZWay Auctions as the company's CFO and President, Farudi successfully created a lucrative Ebay consignment store.
Omri Cohen is currently serving as Co-Founder and CTO of Capsule.
"I am honored and thrilled to be working with such a talented and intelligent team," said Cohen. "I really believe there is something great here. It's refreshing."
An expert in multiple programming languages, Cohen began his career in web development at a very young age. He successfully established a United States office for the Israeli-based online retail company Celebros and built the US team to over 20 developers.
Soon after, Cohen joined Curious Minds, a Beverly Hills-based technology incubator, where he created an expansive array of technologies in the areas of medicine, defense, advertising and others.
Edo Cohen, President of SeeVolution said, "The addition of Farudi and Cohen is essential to the company's future and will add original, astute perspectives to every aspect of the business." SeeVolution's extensive client list and innovative product has led to positive and promising reviews from Mashable and other leading technology blogs.