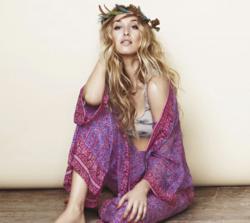 Los Angeles, CA (PRWEB) August 25, 2012
On August 30th, FIDM/Fashion Institute of Design & Merchandising will host an online TweetUp with fashion designer Whitney Port. The woman behind the clothing label Whitney Eve, who came to fame on the MTV reality series' The Hills and The City, will answer questions via Twitter. Think of it like a virtual Q&A for fashion fans.
Whitney will be discussing fall trends, tips on making it as a fashion designer, and more on the fashion college's Twitter feed. Visitors can follow @FIDM and @WhitneyEVEport on Twitter and submit their questions using the hashtag #WhitneyatFIDM. Whitney will answer the questions at 1pm PST on August 30, 2012. This is an incredible opportunity for fans to interact with the established designer who has fans in Heidi Klum, Nicky Hilton, and Kim Kardashian to name a few.
Whitney, who paid her dues at Teen Vogue and working for People's Revolution, recently paid a visit to FIDM's Los Angeles campus and wrote about the visit on her blog. "Yesterday I had the privilege of taking a tour of FIDM. It is such an amazing campus. I was in awe of the students' talent and had to snap a few pictures," she said. Her label, Whitney Eve, currently employs FIDM Students as interns.
FIDM/Fashion Institute of Design & Merchandising is a co-educational, specialized, private college dedicated to educating students for the Fashion, Graphics, Interior Design, and Entertainment industries. Known as a one of the top fashion design schools, FIDM is also a leading graphic design school and digital media college. Visit fidm.edu for more information.