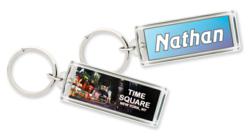 PRESCOTT, Ariz. (PRWEB) August 30, 2012
A team of analysts at leading souvenir company, LaserGifts, recently sought out the top tourist destinations in the United States in order to identify current retail trends and sales performance on a location basis. LaserGifts looked to reliable media sources such as Forbes magazine for the number of people actually visiting America's top tourist attractions each year. In the article titled "America's Top Tourist Attractions", Forbes author Valaer Murray describes how tourist attractions were defined for this study, "…we considered sites of historical or cultural interest, natural phenomena and landmarks; and officially designated entertainment and recreation centers." She mentions also accounting for some commercial areas and prominent roads and walks when finalizing the list. The visitor numbers were actually provided by the tourist destinations themselves.
After reviewing this list from Forbes, LaserGifts looked to its own location based sales data spanning from May 1st through July 31st of 2012. The analysts discovered that not only did LaserGifts product appear in all the areas on the Forbes list of "America's Top Tourist Attractions", but that the best-selling items in each point of interest varied. In the majority of these destinations, retail was credited in driving much of the traffic.
Topping the list with 37.6 million annual visitors is Times Square in New York. According to Forbes, about 80% of all visitors to the city stop by this famous junction. Although its spectacular billboards and blazing marquees make Times Square an attraction in its own right, Murray also attributes an increase in tourist activity due to new flagship stores and other commercial interests such as Madame Tussaud's Wax Museum and M&M World. The official Times Square website lists almost 200 retailers in the area, and over 50 of those locations specialize in souvenirs and gifts. Many of these souvenir shops carry the most highly demanded items on the market offered by industry leader, LaserGifts. Best-selling souvenirs in the Times Square area include the patented Solar Flashing Key Ring and Solar Flashing Zipper Pull. These personalized items blink your name continuously without needing a battery. The second side of the key ring is customized with a radiant scene of Times Square at night.
Retail also played a major role in placing the Las Vegas Strip at second position on the Forbes list of "America's Top Tourist Attractions". With over 29.1 million annual visitors, the Las Vegas Strip is described by the Nevada Gaming Commission as the four miles from the Stratosphere to Mandalay Bay hotels. There are approximately 700 stores located in this vicinity where visitors can put their casino winnings to use. A favorite novelty item in the Las Vegas area is the line of YooDara Good Luck Charms from Dimension 9, which is a sister-company to LaserGifts. A natural fit for those tourists seeking out Lady Luck, YooDara is a line of 36 different handmade string characters. Each of the collectible charms features a special power and unique name. Top designs include Leonard, a lion who "Gives you wisdom and courage to stand up to life's challenges with confidence", as well as Lotto, a rabbit who "Brings you 4 times the luck of a rabbit's foot in games of chance".
Third and fourth place on the list went to historical destinations in Washington D.C. and Boston. Over 25 million visitors a year frequent the National Mall and surrounding museums, memorials, and monuments. The LaserGifts Multi-Wood Pen can be found in numerous souvenir shops encompassing the National Mall. This personalized pen comes with a Cross® type refill and makes a serious statement with its striking patterns of inlaid woods. Locations around D.C. customize the second side of the pen with images of the White House, Lincoln Memorial, and other prominent landmarks. Boston's Faneuil Hall Marketplace offers a diverse shopping and dining experience to an average of 19 million tourists annually. The YooDara Good Luck Charms are a staple in this neighborhood along with the LaserGifts 4D Bookmark. Now offered as a personalized program, LaserGifts further improves their lenticular bookmark product through the addition of patent-pending QR codes linking to NameFacts.info.
To view all 10 of "America's Top Tourist Attractions" visit Forbes.com http://www.forbes.com/2010/05/20/top-tourist-attractions-lifestyle-travel-magic-kingdom-disneyland-times-square.html. Learn more about LaserGifts and its line of profitable souvenir programs on their website at http://lasergifts.com/.
###
LaserGifts is a top manufacturer of quality gift, souvenir, and novelty products. LaserGifts currently employs over 100 people between its three facilities that make-up the company's headquarters in Prescott, Arizona, and its national sales force exceeds 200 representatives. In 2009, the business was featured as one of the 500 fastest-growing private companies on the celebrated Inc. 500 Growth Companies list. With its dedication to personal service as well as its inventive and ever-expanding product line, LaserGifts is confident in attaining goals for future growth and profitability.